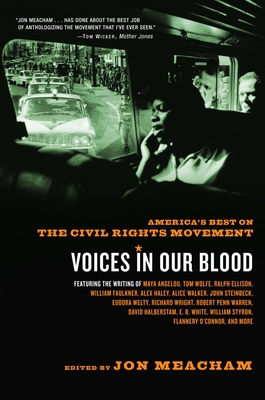 Voices in Our Blood
America's Best on the Civil Rights Movement
Paperback

* Individual store prices may vary.
Description
A literary anthology of important and artful interpretations of the civil rights movement and the fight against white supremacy, past and present—including pieces by Maya Angelou, James Baldwin, Ralph Ellison, Alice Walker, Richard Wright, and John Lewis 

"Jon Meacham . . . has done about the best job of anthologizing the movement that I've ever seen."—Tom Wicker, Mother Jones

Editor and Pulitzer Prize–winning author Jon Meacham has chosen pieces by journalists, novelists, historians, and artists, bringing together a wide range of perspectives and experiences. The result is an unprecedented and powerful portrait of the movement's spirit and struggle, told through voices that resonate with passion and strength.

Maya Angelou takes us on a poignant journey back to her childhood in the Arkansas of the 1930s. On the front page of The New York Times, James Reston marks the movement's apex as he describes what it was like to watch Martin Luther King, Jr., deliver his heralded "I Have a Dream" speech in real time. Alice Walker takes up the movement's progress a decade later in her article "Choosing to Stay at Home: Ten Years After the March on Washington." And John Lewis chronicles the unimaginable courage of the ordinary African Americans who challenged the prevailing order, paid for it in blood and tears, and justly triumphed.

Voices in Our Blood is a compelling look at the movement as it actually happened, from the days leading up to World War II to the anxieties and ambiguities of this new century. The story of race in America is a never-ending one, and Voices in Our Blood tells us how we got this far—and how far we still have to go to reach the Promised Land.

This powerful anthology contains works from:
 
Maya Angelou • Russell Baker • James Baldwin • Taylor Branch • Hodding Carter • Ellis Cose • Stanley Crouch • Ralph Ellison • William Faulkner • Marshall Frady • Henry Louis Gates, Jr. • Peter Goldman • David Halberstam • Alex Haley • Elizabeth Hardwick • Charlayne Hunter-Gault • Murray Kempton • John Lewis • Louis E. Lomax • Benjamin E. Mays • Willie Morris • Flannery O'Connor • Walker Percy • Howell Raines • James Reston • Carl T. Rowan • John Steinbeck • William Styron • Calvin Trillin • Alice Walker • Robert Penn Warren • Pat Watters • Bernard Weinraub • Eudora Welty • Rebecca West • E. B. White • Gary Wills • Tom Wolfe • Richard Wright
Praise For Voices in Our Blood: America's Best on the Civil Rights Movement…
"Jon Meacham . . . has done about the best job of anthologizing the movement that I've ever seen."—Tom Wicker, Mother Jones

"Compelling . . . Acting as a maestro for an orchestra of gifted writers, Meacham succeeds at transporting the reader to the confused heart of American race relations, down to the core of the misunderstandings, the invitations to hate, and the violence"—Juan Williams, The Washington Monthly
 
"A collection of first-rate writings by gifted authors on America's struggle for racial justice."—James Ralph, Chicago Tribune

"The writing in this collection sparkles."—Robert Joiner, St. Louis Post-Dispatch
Random House Trade Paperbacks, 9780375758812, 576pp.
Publication Date: January 7, 2003
About the Author
Jon Meacham is a Pulitzer Prize–winning presidential historian. A contributing writer for The New York Times Book Review and a contributing editor of Time magazine, he is the author of His Truth Is Marching On and the New York Times bestsellers The Hope of Glory, The Soul of America, Destiny and Power: The American Odyssey of George Herbert Walker Bush, Thomas Jefferson: The Art of Power, American Lion: Andrew Jackson in the White House, American Gospel, and Franklin and Winston. Meacham is a distinguished visiting professor and holds the Rogers Chair in the American Presidency at Vanderbilt University. He lives with his family in Nashville, Tennessee.