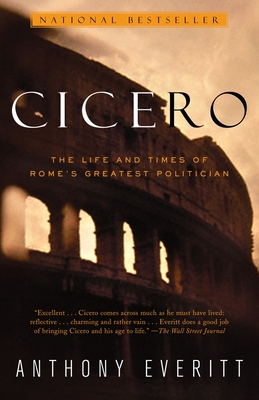 Cicero (Paperback)
The Life and Times of Rome's Greatest Politician
Random House Trade Paperbacks, 9780375758959, 400pp.
Publication Date: May 6, 2003
Other Editions of This Title:
Digital Audiobook (12/4/2014)
* Individual store prices may vary.
Description
NATIONAL BESTSELLER • "An excellent introduction to a critical period in the history of Rome. Cicero comes across much as he must have lived: reflective, charming and rather vain."—The Wall Street Journal

"All ages of the world have not produced a greater statesman and philosopher combined."—John Adams

He squared off against Caesar and was friends with young Brutus. He advised the legendary Pompey on his botched transition from military hero to politician. He lambasted Mark Antony and was master of the smear campaign, as feared for his wit as he was for his ruthless disputations. Brilliant, voluble, cranky, a genius of political manipulation but also a true patriot and idealist, Cicero was Rome's most feared politician, one of the greatest lawyers and statesmen of all times. 

In this dynamic and engaging biography, Anthony Everitt plunges us into the fascinating, scandal-ridden world of ancient Rome in its most glorious heyday—when senators were endlessly filibustering legislation and exposing one another's sexual escapades to discredit the opposition. Accessible to us through his legendary speeches but also through an unrivaled collection of unguarded letters to his close friend Atticus, Cicero comes to life as a witty and cunning political operator, the most eloquent and astute witness to the last days of Republican Rome.

Praise for Cicero

" [Everitt makes] his subject—brilliant, vain, principled, opportunistic and courageous—come to life after two millennia."—The Washington Post

" Gripping . . . Everitt combines a classical education with practical expertise. . . . He writes fluidly."—The New York Times

"In the half-century before the assassination of Julius Caesar . . . Rome endured a series of crises, assassinations, factional bloodletting, civil wars and civil strife, including at one point government by gang war. This period, when republican government slid into dictatorship, is one of history's most fascinating, and one learns a great deal about it in this excellent and very readable biography."—The Plain Dealer

"Riveting . . . a clear-eyed biography . . . Cicero's times . . . offer vivid lessons about the viciousness that can pervade elected government."—Chicago Tribune

"Lively and dramatic . . . By the book's end, he's managed to put enough flesh on Cicero's old bones that you care when the agents of his implacable enemy, Mark Antony, kill him."—Los Angeles Times
About the Author
Anthony Everitt's fascination with ancient Rome began when he studied classics in school and has persisted ever since. He read English literature at Cambridge University and served four years as secretary general of the Arts Council for Great Britain. A visiting professor of arts and cultural policy at Nottingham Trent University and City University, Everitt has written extensively on European culture and development, and has contributed to the Guardian and Financial Times since 1994. Cicero, his first biography, was chosen by both Allan Massie and Andrew Roberts as the best book of the year in the United Kingdom. Anthony Everitt lives near Colchester, England's first recorded town, founded by the Romans, and is working on a biography of Augustus.
Praise For Cicero: The Life and Times of Rome's Greatest Politician…
'Just a note to say how much I enjoyed Anthony Everitt's Cicero, which I will certainly be choosing as my Book of the Year. I found it the most wonderfully written and perfectly paced book I've read (or reviewed) in ages. The way Everitt carefully and comprehensively unfolded the drama brought back the excitement of ancient history superbly. Congratulations on spotting a real winner."-Andrew Roberts, author of Napoleon and Wellington and Salisbury

"Anthony Everitt is a brilliant guide to the intricacies of Roman politics… Everitt has written a book which is unobtrusively crammed with fascinating information about Roman life and customs, splendidly clear and coherent in its narrative and altogether convincing in its portraiture." -Sunday Independent (Dublin)

"We know more about Cicero than about almost any other figure of antiquity. We know so much about him, thanks to the happy chance which has seen so much of his correspondence preserved, that it is possible to write the sort of biography of Cicero that one might write about someone from, say, the nineteenth century. Anthony Everitt has done just that, sympathetically and very well. This is an engrossing book, written lucidly for the general reader, and one that only a foolish expert would disdain." -Allan Massie, Literary Review

"Of all the arts, that of politics has advanced least since the days of Greece and Rome. This week's new biography of Rome's most famous politician by Anthony Everitt tries to answer the question, why?…Cicero mastered the essence of politics. He preached the difference between authority and power. He was an orator who wrote poetry, a politician who read history, ruthless yet able to articulate the demands of clemency, democracy and the rights of free men under law…If good government is rooted in history and history in biography, Cicero is the man of the hour." -Simon Jenkins, The Times

"In the course of Cicero's long life, he made several powerful enemies, often through his own witty put-downs, and he was accused of everything from cowardice and self-importance to histrionics, homosexuality, and incest. But the great majority of his contemporaries - and of course posterity itself - were much kinder to Cicero, and this engrossing new biography by Anthony Everitt does a superb job of explaining why…Cicero's political life forms the real backbone of this book…As an explicator, Everitt is admirably informative and free from breathlessness. He has a sophisticated conception of character, too, including a willingness - so crucial in biographers - to embrace contradictions."-Independent on Sunday

"Mr. Everitt introduces the man graciously to a new generation, and will endear him anew to all those who never grasped the sense, let alone the beauty, of that multi-clausal prose." -The Economist

"Everitt is an attentive biographer who continuously rehearses and refines his account of the motives of his subject…His achievement is to have replaced the austere classroom effigy with an altogether rounder, more awkward and human person." -Financial Times