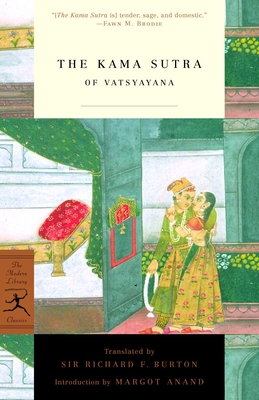 The Kama Sutra of Vatsyayana (Paperback)
Modern Library, 9780375759246, 240pp.
Publication Date: May 14, 2002
Description
Sir Richard F. Burton's translation of The Kama Sutra remains one of the best English interpretations of this early Indian treatise on politics, social customs, love, and intimacy. Its crisp style set a new standard for Sanskrit translation. The Kama Sutra stands uniquely as a work of psychology, sociology, Hindu dogma, and sexology. It has been a celebrated classic of Indian literature for 1,700 years and a window for the West into the culture and mysticism of the East. This Modern Library Paperback Classic reprints the authoritative text of Sir Richard F. Burton's 1883 translation.
About the Author
Sir Richard F. Burton (1821-90) was a British explorer and writer. His translation of The Arabian Nights remains a classic. Margot Anand, an internationally acclaimed teacher of Tantra, is the author of many bestselling books, among them Sexual Ecstasy: The Art of Orgasm and The Art of Everyday Ecstasy. She lives in California.
Praise For The Kama Sutra of Vatsyayana…
"[The Kama Sutra is] tender, sage, and domestic." —Fawn M. Brodie
Advertisement