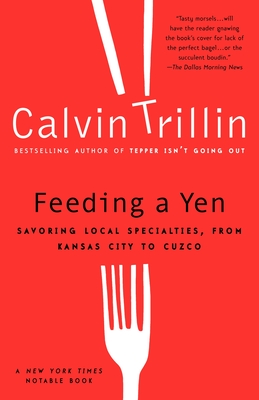 Feeding a Yen: Savoring Local Specialties, from Kansas City to Cuzco (Paperback)
Savoring Local Specialties, from Kansas City to Cuzco
Random House Trade, 9780375759963, 216pp.
Publication Date: May 11, 2004
* Individual store prices may vary.
or
Not Currently Available for Direct Purchase
Description
Calvin Trillin has never been a champion of the "continental cuisine" palaces he used to refer to as La Maison de la Casa House. What he treasures is the superb local specialty. And he will go anywhere to find one. As it happens, some of his favorite dishes can be found only in their place of origin. Join Trillin on his charming, funny culinary adventures as he samples fried marlin in Barbados and the barbecue of his boyhood in Kansas City. Travel alongside as he hunts for the authentic fish taco, and participates in a "boudin blitzkrieg" in the part of Louisiana where people are accustomed to buying these spicy sausages and polishing them off in the parking lot. ("Cajun boudin not only doesn't get outside the state, it usually doesn't even get home.") In New York, Trillin even tries to use a glorious local specialty, the bagel, to lure his daughters back from California. Feeding a Yen is a delightful reminder of why New York magazine called Calvin Trillin "our funniest food writer.
About the Author
CALVIN TRILLIN has been called "perhaps the finest reporter in America," and "a classic American humorist." A onetime writer for Time, The New Yorker and a current contributor to The Nation, he is the author of several collections of essays and three comic novels, including the national bestseller Tepper Isn't Going Out. He has also written three previous books on eating, American Fried, Alice, Let's Eat and Third Helpings, and the acclaimed memoirs, Messages from My Father, a New York Times best seller, and Family Man. His next book will be "Obliviously On He Sails," a collection of satirical verse about the George W, Bush presidency.
Praise For Feeding a Yen: Savoring Local Specialties, from Kansas City to Cuzco…
"Calvin Trillin is to food writing what Chaplin was to film acting."
—Business Week

"Tasty morsels . . . will have the reader gnawing the book's cover for lack of the perfect bagel . . . or the succulent boudin."
—The Dallas Morning News

"One of the most brilliant humorists of our times . . . Trillin is guaranteed good reading."
—Charleston Post and Courier

"Trillin never loses track of the ultimate meaning of food—that it connects us to those we care about the most deeply."
—The New York Times Book Review

"Trillin is the guide on a magical mystery tour punctuated by eccentric characters made memorable by his deft touch."
—The Denver Post

Advertisement