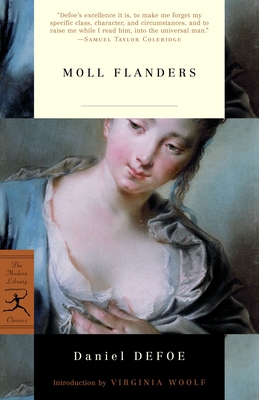 Moll Flanders (Modern Library Classics) (Paperback)
Modern Library, 9780375760105, 368pp.
Publication Date: June 11, 2002
* Individual store prices may vary.
Description
Written in a time when criminal biographies enjoyed great success, Daniel Defoe's Moll Flanders details the life of the irresistible Moll and her struggles through poverty and sin in search of property and power. Born in Newgate Prison to a picaresque mother, Moll propels herself through marriages, periods of success and destitution, and a trip to the New World and back, only to return to the place of her birth as a popular prostitute and brilliant thief. The story of Moll Flanders vividly illustrates Defoe's themes of social mobility and predestination, sin, redemption and reward.

This Modern Library Paperback Classic is set from the 1721 edition printed by Chetwood in London, the only edition approved by Defoe.
About the Author
Virginia Woolf (1882–1941) was a novelist, critic, and essayist whose works include such classics as A Room of One's Own, Mrs. Dalloway, To the Lighthouse, and The Voyage Out (the latter available from the Modern Library in both cloth and paper).
Praise For Moll Flanders (Modern Library Classics)…
"Defoe's excellence it is, to make me forget my specific class, character, and circumstances, and to raise me while I read him, into the universal man." —Samuel Taylor Coleridge