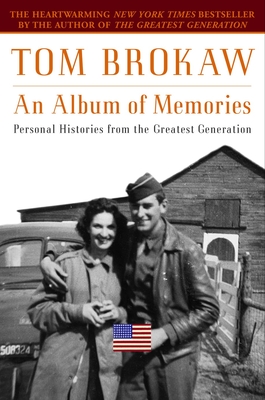 An Album of Memories (Paperback)
Personal Histories from the Greatest Generation
Random House Trade Paperbacks, 9780375760419, 400pp.
Publication Date: April 30, 2002
Other Editions of This Title:
Digital Audiobook (1/1/2001)
Digital Audiobook (4/30/2001)
Hardcover (5/1/2001)
* Individual store prices may vary.
Description
"I cannot go anywhere in America without people wanting to share their wartime experiences....The stories and the lessons have emerged from long-forgotten letters home, from reunions of old buddies and outfits, from unpublished diaries and home-published memoirs....As the stories in this album of memories remind us, it truly was an American experience, from the centers of power to the most humble corners of the land."
—Tom Brokaw

In this beautiful American family album of stories from the Greatest Generation, the history of life as it was lived during the Depression and World War II comes alive and is preserved in people's own words. Photographs and time lines also commemorate important dates and events. An Army Air Corps veteran who enlisted in 1941 at age seventeen writes to describe the Bataan Death March. A black nurse tells of her encounter with wartime segregation. Other members of the Greatest Generation describe their war—in such historic episodes as Guadalcanal, the D-Day invasion, the Battle of the Bulge, and Midway—as well as their lives on the home front. Starting with the Depression and Pearl Harbor, moving on through the war years in Europe, in the Pacific, and at home, this unique book preserves a people's rich historical heritage and the legacy of a nation's heroism in war and its courage in peace—in the shaping of their lives and of the world we have today.
About the Author
Tom Brokaw is the author of seven bestsellers: The Greatest Generation, The Greatest Generation Speaks, An Album of Memories, Boom!, The Time of Our Lives,A Long Way from Home, and A Lucky Life Interrupted. A native of South Dakota, he graduated from the University of South Dakota, and began his journalism career in Omaha and Atlanta before joining NBC News in 1966. Brokaw was the White House correspondent for NBC News during Watergate, and from 1976 to 1981 he anchored Today on NBC. He was the sole anchor and managing editor of NBC Nightly News with Tom Brokaw from 1983 to 2005. He continues to report for NBC News, producing long-form documentaries and providing expertise during breaking news events. Brokaw has won every major award in broadcast journalism, including two DuPonts, three Peabody Awards, and several Emmys, including one for lifetime achievement. In 2014, he was awarded the Presidential Medal of Freedom. He lives in New York and Montana.
Praise For An Album of Memories: Personal Histories from the Greatest Generation…
Praise for The Greatest Generation

"Brokaw offers examples of the many virtues he is celebrating: people who distinguished themselves both in battle and on the home front, men who built careers despite being disabled by the war, women who overcame the obstacles that were stacked against them, minorities who used adversity to improve their people's lives."
—The New York Times

"Thoroughly terrific, deeply felt, passionate...The stories Brokaw tells are so powerful that a spell is cast upon the reader, reminding us, in our more cynical and fragmented age, that with enough collective energy and spirit, anything can be accomplished."
—Doris Kearns Goodwin