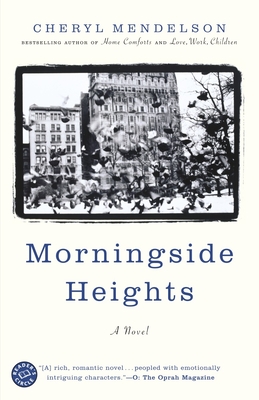 Morningside Heights (Paperback)
Random House Trade, 9780375760686, 335pp.
Publication Date: July 12, 2005
* Individual store prices may vary.
or
Not Currently Available for Direct Purchase
Description
Following the tremendous success of her first book, a nonfiction work on housekeeping that became a surprise bestseller, Cheryl Mendelson brings to her debut novel the same intensely readable style that made Home Comforts so popular. In the spirit of Anthony Trollope, she roots her story very much in a specific time and place--1999, in an old-fashioned New York City neighborhood that's becoming rapidly gentrified--and the enormously engaging result resembles a twentieth-century version of The Way We Live Now. Anne and Charles Braithwaite have spent their entire married life in a sedate old apartment building in Morningside Heights, a northern Manhattan neighborhood filled with intellectual, artistic souls like themselves, who thrive on the area's abundant parks, cultural offferings, and reasonably priced real estate. The Braithwaites, musicians with several young children, are at the core of a circle of friends who make their living as writers, psychiatrists, and professors. But as the novel opens, their comfortable life is being threatened as a buoyant economy sends newly rich Wall Street types scurrying northward in search of good investments and more space. At the same time, the Braithwaites weather the difficult love lives of their friends, and all of the characters confront their fears that the institutions and social values that have until now provided them with meaning and stability--science, religion, the arts--are in increasing decline. Though the group clings to the rituals and promises of such institutions, the Braithwaites' imminent departure sends shock waves through their community. As the family contemplates the impossible--a move to the suburbs--their predicament represents the end of a cultured kind of city life that middle-class families can no longer afford. This intelligent and captivating social chronicle is the first of a trilogy of novels about Morningside Heights; readers sure to be drawn in by Mendelson's habit-forming prose have much more to look forward to. From the Hardcover edition.
About the Author
Cheryl Mendelson received her Ph.D. in philosophy from the University of Rochester and her J.D. from Harvard Law School. She has practiced law in New York City and taught philosophy at Purdue and Columbia universities. She is the author of Home Comforts. She lives in New York City, and this is her first novel. From the Hardcover edition.
Praise For Morningside Heights…
Praise for Cheryl Mendelson and Home Comforts

"Cheryl Mendelson is the author of the strangely compelling new book Home Comforts, [which contains] as promising a germ of a domestic novella as might be found anywhere."
—The New Yorker

"It's an extraordinary achievement that has no peer in this century and may well have none in the next. A lawyer with a degree in philosophy, Mendelson writes with grace, wit, and exactitude on a staggering range of material."
—Newsweek

"Although it's a reference work, Home Comforts packs the punch of a major novel."
—Brill's Content

"Wildly comprehensive...full of revelations...What is most interesting about this book is Ms. Mendelson's point of view."
—The New York Times

"Not only illuminating and practical but also, most surprisingly, crisply entertaining."
—The Wall Street Journal
Advertisement