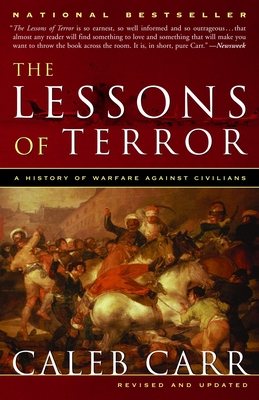 The Lessons of Terror: A History of Warfare Against Civilians (Paperback)
A History of Warfare Against Civilians
Random House Trade, 9780375760747, 320pp.
Publication Date: March 11, 2003
Description
Military historian Caleb Carr's groundbreaking work anticipated America's current debates on preemptive military action against terrorist sponsor states, reorganization of the American intelligence system, and the treatment of terrorists as soldiers in supranational armies rather than as criminals. Carr's authoritative exploration demonstrates that the practice of terrorism, employed by national armies as well as extremists since the days of ancient Rome, is ultimately self-defeating. Far from prompting submission, it stiffens enemy resolve and never leads to long-lasting success.
Controversial on its initial publication in 2002, The Lessons of Terror has been repeatedly validated by subsequent events. Carr's analysis of individual terrorist acts, and particularly of the history of the Middle East conflict, is fundamental to a deep understanding of the roots of terrorism as well as the steps and reforms that must be taken if the continuing threat of terrorist behavior is to be met effectively today and, finally, eradicated tomorrow.
About the Author
Caleb Carr is a contributing editor of MHQ: The Quarterly Journal of Military History and the series editor of the Modern Library War Series. His military and political writings have appeared in numerous magazines and periodicals, among them The World Policy Journal, The New York Times, and Time. He currently lives in upstate New York. From the Hardcover edition.
Praise For The Lessons of Terror: A History of Warfare Against Civilians…
"The Lessons of Terror is so earnest, so well informed and so outrageous...that almost any reader will find something to love and something that will make you want to throw the book across the room. It is, in short, pure Carr."—Newsweek

"After the deadly attacks against the United States, many Americans now may view Carr's earlier arguments as prescient and his approach as the only one that has a chance of working. The Lessons of Terror is fascinating to read and provocative in the best sense of the word." —The Christian Science Monitor

"A provocative history of warfare against civilians from Roman times to the present."—Time

"It crosses political boundaries. It offends and provokes, refreshes and energizes."—Chicago Sun-Times
Advertisement