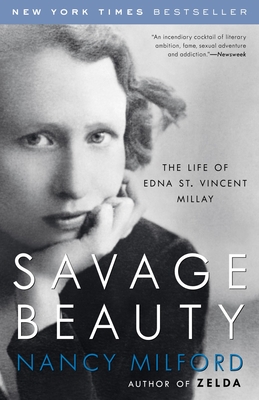 Savage Beauty (Paperback)
The Life of Edna St. Vincent Millay
Random House Trade, 9780375760815, 608pp.
Publication Date: September 10, 2002
Description
Thomas Hardy once said that America had two great attractions: the skyscraper and the poetry of Edna St. Vincent Millay. The most famous poet of the Jazz Age, Millay captivated the nation: She smoked in public, took many lovers (men and women, single and married), flouted convention sensationally, and became the embodiment of the New Woman.
Thirty years after her landmark biography of Zelda Fitzgerald, Nancy Milford returns with an iconic portrait of this passionate, fearless woman who obsessed America even as she tormented herself. Chosen by USA Today as one of the top ten books of the year, Savage Beauty is a triumph in the art of biography. Millay was an American original--one of those rare characters, like Sylvia Plath and Ernest Hemingway, whose lives were even more dramatic than their art.
About the Author
Nacy Milford's Zelda spent twenty-nine weeks on the New York Times bestseller list in hardcover, was a finalist for the Pulitzer Prize and the National Book Award and was translated into twelve languages. Nancy Milford was a Fulbright Scholar in Turkey in 1999, and an Annenberg Fellow at Brown Unviersity. She has taught at the University of Michigan, at Vassar College, and will be in the American Studies Program at Princeton University this fall. She is a founder of the Writers Room, has held a Guggenheim Fellowship, and is a Literary Lion at The New York Public Library. She lives in New York. From the Hardcover edition.
Praise For Savage Beauty: The Life of Edna St. Vincent Millay…
"An incendiary cocktail of literary ambition, fame, sexual adventure and addiction."
—Newsweek

"Perfectly outstanding...Milford's biography takes the whole of Millay's heaving, grieving, ecstatic life into account in a way that is almost loving, always respectful, even when blunt truth and candor are necessary....Masterful."
—Kaye Gibbons, The Atlanta Journal-Constitution

"Original and spellbinding."
—Lorrie Moore, The New York Review of Books

"Savage Beauty is irresistible."
—Amanda Foreman

"One seldom sees this level of brilliant, hands-on research in contemporary literary biography. The result is this compelling, keenly perceptive life of Edna St. Vincent Millay—with its own 'savage beauty.'"
—Toni Morrison

"Riveting and revealing...Savage Beauty sweeps before it all previous biographies of Millay, which by contrast seem uninformed and too discreet."
—J. D. McClatchy, The New York Times Book Review
Advertisement