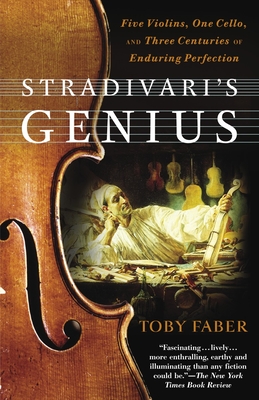 Stradivari's Genius: Five Violins, One Cello, and Three Centuries of Enduring Perfection (Paperback)
Five Violins, One Cello, and Three Centuries of Enduring Perfection
Random House Trade, 9780375760853, 265pp.
Publication Date: April 4, 2006
Description
Antonio Stradivari (1644--1737) was a perfectionist whose single-minded pursuit of excellence changed the world of music. In the course of his long career in the northern Italian city of Cremona, he created more than a thousand stringed instruments; approximately six hundred survive, their quality unequalled by any subsequent violin-maker. In this fascinating book, Toby Faber traces the rich, multilayered stories of six of these peerless creations-five violins and a cello-and the one towering artist who brought them into being. Blending history, biography, meticulous detective work, and an abiding passion for music, Faber takes us from the salons of Vienna to the concert halls of New York, and from the breakthroughs of Beethoven's last quartets to the first phonographic recordings. This magnificent narrative invites us to share the life, the intrigue, and the incomparable beauty of the world's most marvelous stringed instruments.
About the Author
Born in Cambridge, England, in 1965, TOBY FABER now lives in London with his wife and daughter. He was previously managing director of his family's renowned publishing firm, Faber and Faber. This is his first book. From the Hardcover edition.
Praise For Stradivari's Genius: Five Violins, One Cello, and Three Centuries of Enduring Perfection…
"Fascinating . . . lively . . . more enthralling, earthy and illuminating than any fiction could be."
–The New York Times Book Review

"A celebration of six instruments and the master craftsman who made them . . . [Faber] brings to the subject an infectious fascination with Stradivari's life and trade. . . . He writes with clarity and fluency."
–Chicago Tribune

"An extraordinary accomplishment and a compelling read. Like strange totems that cast an irresistible spell, these instruments bring out the best and the worst of those who would own them, and Faber deftly tells the stories in all their rich and surprising detail."
–Thad Carhart, author of The Piano Shop on the Left Bank

"As Faber traces the history of these standout strings, many engrossing subplots emerge. . . . A worthy contribution to the ongoing legend of Stradivari."
–Minneapolis Star Tribune

"Fascinating, accessible, and enjoyable."
–Tracy Chevalier, author of Girl with a Pearl Earring
Advertisement