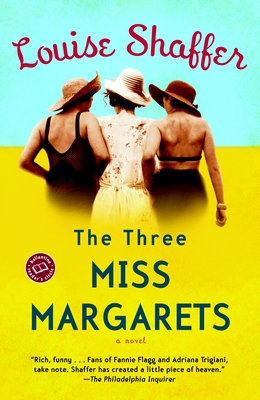 The Three Miss Margarets (Paperback)
A Novel
Ballantine Books, 9780375760884, 336pp.
Publication Date: August 3, 2004
* Individual store prices may vary.
Description
Miss Peggy, Dr. Maggie, and Miss Li'l Bit, friends and confidantes for nearly a lifetime, find it funny and bewildering that they have become icons in Charles Valley, Georgia. Little does the rest of the town know that beneath the irreproachable façades of its three doyennes lies an explosive decades-old secret that is about to be revealed.

Thirty-odd years ago the three Miss Margarets did something extraordinary, clandestine, and very illegal. Although their lives are haunted by the night that changed their lives, they believe that their crime was simply a matter of righting an egregious wrong. But when a stranger's arrival in town and a tragic death open the floodgate of memory, their loyalty, friendship, and honor are tested in ways they could never have imagined.
About the Author
Louise Shaffer, a graduate of Yale Drama School, has written for television and has appeared on Broadway, in TV movies, and in daytime dramas, earning an Emmy for her work on Ryan's Hope. Shaffer and her husband live in the Lower Hudson Valley.
Praise For The Three Miss Margarets: A Novel…
"Rich, funny . . . Fans of Fannie Flagg and Adriana Trigiani, take note. Shaffer has created a little piece of heaven."—The Philadelphia Inquirer

"A romp of a read—warm but never smarmy, wise without pretense of profundity. Shaffer tells a good story that's part mystery but mostly an exploration of loyalty and friendship."—St. Louis Post-Dispatch

"The Miss Margarets are treasures . . . Shaffer unfolds the story deftly. . . . Each of the three Miss Margarets is a wonderfully realized character; each has a closely guarded secret life."—The Boston Globe

"A high level of suspense . . . Drop by this charming Southern town. No doubt you'll be invited to join the three Margarets on the veranda and sip sweetened tea, lemonade, or even  Gentleman Jack . . . and enjoy the promise of a good read."—The Roanoke Times

"Provocative . . . a fun read. Those who appreciated Steel Magnolias and the 'Ya Ya Sisters' will enjoy this closely bonded group of women."—Anniston Star (AL)

"Louise Shaffer is a magnificent storyteller. She weaves a tale so rich and compelling, you will be unable to put it down. A triumph!"—Adriana Trigiani, author of the Big Stone Gap trilogy

"[A] fine first novel . . . A surprising amount of suspense . . . Shaffer explores the familiar territory of the small-town South, its undying issues of race and class, with insight, humor, and compassion."—Orlando Sentinel

"I shouldn't have started The Three Miss Margarets so late in the day, nor kept on reading into the early hours of the morning. But so I did, and a fine, satisfying story it was, too—well worth the loss of sleep."—Ann B. Ross, author of Miss Julia Speaks Her Mind

"Intriguing . . . The Three Miss Margarets is immensely appealing in its depth of characterization. . . . Readers are sure to enjoy getting to know these women for their strength, daring, and selflessness."—Times Daily (Florence, AL)

"A can't-put-it-down Southern tale [with] a good plot and a sense of mystery."—The Columbus Dispatch

"A southern gothic with a sense of humor."—Poughkeepsie Journal

"What a pleasure it is to hear the voice of Louise Shaffer, and all the wonderful characters she brings to life in The Three Miss Margarets. An entire world is splendidly evoked, a gripping mystery heightens the tension, and always we are guided along with great skill by the fresh, funny voice of the author. I loved this book."—Mark Childress, author of Crazy in Alabama

"The story never lags, leaping back and forth between present and past, showing how much the latter creates the former. Shaffer has a pleasing way with a phrase."—The Philadelphia Inquirer

"Lively . . . A homey, Southern narrative voice . . . Shaffer has a knack for building complex characters with clever, cutting lines."—Book magazine

"[A] winning debut . . . The three Miss Margarets are wholly imagined, rich creations whose reticence speaks volumes about their time and place."—Publishers Weekly