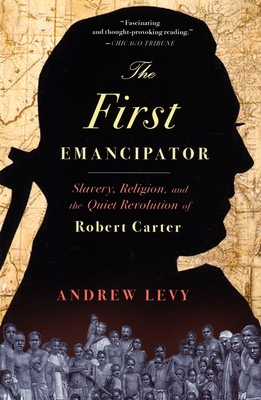 The First Emancipator: Slavery, Religion, and the Quiet Revolution of Robert Carter (Paperback)
Slavery, Religion, and the Quiet Revolution of Robert Carter
Random House Trade, 9780375761041, 310pp.
Publication Date: January 9, 2007
Description
" Andrew Levy] brings a literary sensibility to the study of history, and has written a richly complex book, one that transcends Carter's story to consider larger questions of individual morality and national memory."
-The New York Times Book Review
In 1791, Robert Carter III, a pillar of Virginia's Colonial aristocracy, broke with his peers by arranging the freedom of his nearly five hundred slaves. It would be the largest single act of liberation in the history of American slavery before the Emancipation Proclamation. Despite this courageous move-or perhaps because of it-Carter's name has all but vanished from the annals of American history. In this haunting, brilliantly original work, Andrew Levy explores the confluence of circumstance, conviction, war, and emotion that led to Carter's extraordinary act.
As Levy points out, Carter was not the only humane master, nor the sole partisan of emancipation, in that freedom-loving age. So why did he dare to do what other visionary slave owners only dreamed of? In answering this question, Levy reveals the unspoken passions that divided Carter from others of his class, and the religious conversion that enabled him to see his black slaves in a new light. Drawing on years of painstaking research and written with grace and fire, The First Emancipator is an astonishing, challenging, and ultimately inspiring book.
"A vivid narrative of the future emancipator's evolution."
-The Washington Post Book World
"Highly recommended . . . a truly remarkable story about an eccentric American hero and visionary . . . should be standard reading for anyone with an interest in American history."
-Library Journal (starred review)
"Absorbing. . . Well researched and thoroughly fascinating, this forgotten history will appeal to readers interested in the complexities of American slavery."
-Booklist (starred review)
About the Author
ANDREW LEVY was born in Mount Holly, New Jersey, in 1962. He received an M.A. from the Johns Hopkins Writing Seminars in 1986 and a Ph.D. in literature from the University of Pennsylvania in 1991. Levy has published essays in Harper's, Dissent, and The American Scholar, book reviews in the Chicago Tribune and The Philadelphia Inquirer, and has written or co-edited several books on American literature and writing. He lives in Indianapolis with his wife, Siobhan, and their son, Aedan, and is currently Cooper Chair at Butler University. From the Hardcover edition.
Praise For The First Emancipator: Slavery, Religion, and the Quiet Revolution of Robert Carter…
Advance praise for The First Emancipator

"This luminous book recovers from the fog of historical amnesia a wealthy slave-owning Virginia gentleman (and neighbor of George Washington) who tried to lead the slave-bound new nation toward a better future. A gripping, important must-read that will convince many that the founding fathers could have abolished slavery."
–GARY B. NASH, professor emeritus, UCLA, author of Red, White & Black: The Peoples of Early North America

"Robert Carter III and his emancipatory Deed of Gift 'fell out' of American history for the same reason that racial equality disappeared, until recent times, from the American social contract. Andrew Levy's engrossing The First Emancipator rescues an amazing contemporary of the Founders from the void."
–DAVID LEVERING LEWIS, author of the two-volume biography of W.E.B. Du Bois, winner of the Pulitzer Prize in 1994 and 2001


"Andrew Levy's vivid biography–of a fabulously rich slaveholder who, imagining the impossible, broke all society's rules–shatters one of our favorite historical mirrors. In the 1790s, freeing hundreds of slaves became a religious obsession for Robert Carter III. How he hammered out a working model for a radically different American future only to have it instantly and permanently forgotten redefines our past in ways that test the resiliency of the American mythos."
–FORREST CHURCH, author of The American Creed: A Spiritual and Patriotic Primer
Advertisement