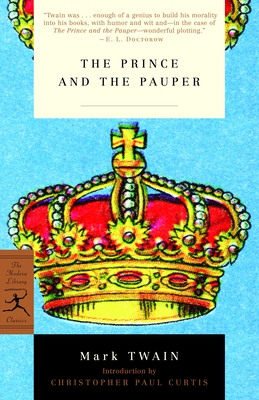 The Prince and the Pauper (Paperback)
Modern Library, 9780375761126, 240pp.
Publication Date: July 8, 2003
Description
Set in sixteenth-century England, Mark Twain's classic "tale for young people of all ages" features two identical-looking boys--a prince and a pauper--who trade clothes and step into each other's lives. While the urchin, Tom Canty, discovers luxury and power, Prince Edward, dressed in rags, roams his kingdom and experiences the cruelties inflicted on the poor by the Tudor monarchy. As Christopher Paul Curtis observes in his Introduction, The Prince and the Pauper is "funny, adventurous, and exciting, yet also chock-full of . . . exquisitely reasoned harangues against society's ills." This Modern Library Paperback Classic is set from the Mark Twain Project edition, which is the approved text of the Center for Scholarly Editions of the Modern Language Association.
About the Author
Christopher Paul Curtis, winner of the Newbery Medal and the Coretta Scott King Award, is the author of The Watsons Go to Birmingham--1963 and Bud, Not Buddy. He is currently at work on a novel entitled Bucking the Sarge.
Praise For The Prince and the Pauper…
"Twain was . . . enough of a genius to build his morality into his books, with humor and wit and—in the case of The Prince and the Pauper—wonderful plotting." —E. L. Doctorow
Advertisement