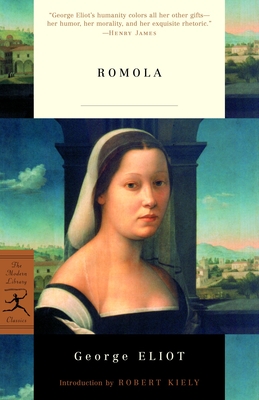 Romola (Paperback)
Modern Library, 9780375761218, 656pp.
Publication Date: June 10, 2003
Description
George Eliot's Romola, writes Robert Kiely in his Introduction, embodies the author's "wrestling with her own best theories of history and human nature as a creative experiment of the highest order." Set in Florence in 1492, a time of great political and religious turmoil, Eliot's novel blends vivid fictional characters with historical figures such as Savonarola, Machiavelli, and the Medicis. When Romola, the virtuous daughter of a blind scholar, marries Tito Melema, a charismatic young Greek, she is bound to a man whose escalating betrayals threaten to destroy all that she holds dear. Profoundly inspired by Savonarola's teachings, then crushed by the religious leader's ultimate failure, Romola finds her salvation in noble self-sacrifice. This Modern Library Paperback Classic is set from the 1878 Cabinet Edition.
About the Author
Robert Kiely is Loker Professor of English and American Literature at Harvard. Among his publications are Reverse Tradition: Postmodern Fictions and the Nineteenth Century Novel, and Still Learning: Spiritual Sketches from a Professor's Life.
Praise For Romola…
"George Eliot's humanity colors all her other gifts—her humor, her morality, and her exquisite rhetoric." —Henry James
Advertisement