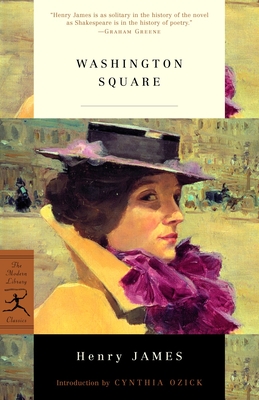 Washington Square (Paperback)
Modern Library, 9780375761225, 288pp.
Publication Date: October 8, 2002
Description
Washington Square follows the coming-of-age of its plain-faced, kindhearted heroine, Catherine Sloper. Much to her father's vexation, a handsome opportunist named Morris Townsend woos the long-suffering heiress, intent on claiming her fortune. When Catherine stubbornly refuses to call off her engagement, Dr. Sloper forces Catherine to choose between her inheritance and the only man she will ever truly love. Cynthia Ozick, in her Introduction to what she calls Henry James's "most American fiction," writes that "every line, every paragraph, every chapter of Washington Square] is a fleet-footed light brigade, an engine of irony." Precise and understated, this charming novel endures as a matchless study of New York in the mid-nineteenth century.
About the Author
Cynthia Ozick, a recipient of a Lannan Award for fiction and a National Book Critics Circle winner for essays, is the author of Trust, The Messiah of Stockholm, The Shawl, and The Puttermesser Papers. She lives in New York.
Praise For Washington Square…
"Henry James is as solitary in the history of the novel as Shakespeare is in the history of poetry." —Graham Greene
Advertisement