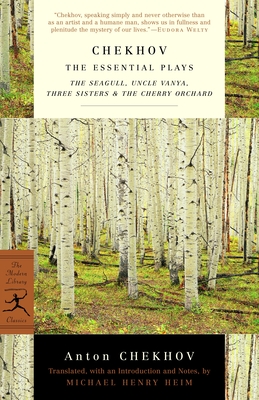 Chekhov: The Essential Plays: The Seagull, Uncle Vanya, Three Sisters & the Cherry Orchard (Paperback)
The Essential Plays: The Seagull, Uncle Vanya, Three Sisters & the Cherry Orchard
Modern Library, 9780375761348, 288pp.
Publication Date: August 19, 2003
Description
Because Chekhov's plays convey the universally recognizable, sometimes comic, sometimes dramatic, frustrations of decent people trying to make sense of their lives, they remain as fresh and vigorous as when they were written a century ago. Gathered here in superb new renderings by one of the most highly regarded translators of our time versions that have been staged throughout the United States, Canada, and Great Britain are Chekhov's four essential masterpieces for the theater.
About the Author
Michael Henry Heim is professor of Slavic Languages and Literatures and Comparative Literature at the University of California, Los Angeles. His previous translations include Anton Chekhov's Life and Thought: Selected Letters and Commentary (with Simon Karlinsky); The Unbearable Lightness of Being, by Milan Kundera; and My Century, by Gunter Grass. He is a member of the American Academy of Arts and Sciences.
Praise For Chekhov: The Essential Plays: The Seagull, Uncle Vanya, Three Sisters & the Cherry Orchard…
"Chekhov, speaking simply and never otherwise than as an artist and a humane man, shows us in fullness and plenitude the mystery of our lives."—Eudora Welty
Advertisement