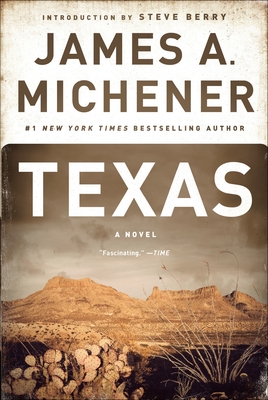 Texas (Paperback)
Dial Press, 9780375761416, 1472pp.
Publication Date: November 12, 2002
Description
Spanning four and a half centuries, James A. Michener's monumental saga chronicles the epic history of Texas, from its Spanish roots in the age of the conquistadors to its current reputation as one of America's most affluent, diverse, and provocative states. Among his finely drawn cast of characters, emotional and political alliances are made and broken, as the loyalties established over the course of each turbulent age inevitably collapse under the weight of wealth and industry. With Michener as our guide, Texas is a tale of patriotism and statesmanship, growth and development, violence and betrayal--a stunning achievement by a literary master. Praise for Texas "Fascinating."--Time "A book about oil and water, rangers and outlaws, frontier and settlement, money and power . . . James A. Michener] manages to make history vivid."--The Boston Globe "A sweeping panorama . . . Michener] grapples earnestly with the Texas character in a way that Texas's own writers often don't."--The Washington Post Book World

"Vast, sprawling, and eclectic in population and geography, the state has just the sort of larger-than-life history that lends itself to Mr. Michener's taste for multigenerational epics."--The New York Times
About the Author
James A. Michener was one of the world's most popular writers, the author of more than forty books of fiction and nonfiction, including the Pulitzer Prize-winning Tales of the South Pacific, the bestselling novels The Source, Hawaii, Alaska, Chesapeake, Centennial, Texas, Caribbean, and Caravans, and the memoir The World Is My Home. Michener served on the advisory council to NASA and the International Broadcast Board, which oversees the Voice of America. Among dozens of awards and honors, he received America's highest civilian award, the Presidential Medal of Freedom, in 1977, and an award from the President's Committee on the Arts and Humanities in 1983 for his commitment to art in America. Michener died in 1997 at the age of ninety.
Praise For Texas…
"Fascinating."—Time
 
"A book about oil and water, rangers and outlaws, frontier and settlement, money and power . . . [James A. Michener] manages to make history vivid."—The Boston Globe
 
"A sweeping panorama . . . [Michener] grapples earnestly with the Texas character in a way that Texas's own writers often don't."—The Washington Post Book World
 
"Vast, sprawling, and eclectic in population and geography, the state has just the sort of larger-than-life history that lends itself to Mr. Michener's taste for multigenerational epics."—The New York Times
Advertisement