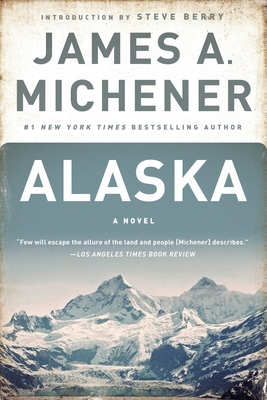 Alaska (Paperback)
Dial Press, 9780375761423, 1152pp.
Publication Date: November 12, 2002
Description
In this sweeping epic of the northernmost American frontier, James A. Michener guides us through Alaska's fierce terrain and history, from the long-forgotten past to the bustling present. As his characters struggle for survival, Michener weaves together the exciting high points of Alaska's story: its brutal origins; the American acquisition; the gold rush; the tremendous growth and exploitation of the salmon industry; the arduous construction of the Alcan Highway, undertaken to defend the territory during World War II. A spellbinding portrait of a human community fighting to establish its place in the world, Alaska traces a bold and majestic saga of the enduring spirit of a land and its people. Praise for Alaska "Few will escape the allure of the land and people Michener] describes. . . . Alaska takes the reader on a journey through one of the bleakest, richest, most foreboding, and highly inviting territories in our Republic, if not the world. . . . The characters that Michener creates are bigger than life."--Los Angeles Times Book Review "Always the master of exhaustive historical research, Michener tracks the settling of Alaska in] vividly detailed scenes and well-developed characters."--Boston Herald "Michener is still, sentence for sentence, writing's fastest attention grabber."--The New York Times
About the Author
James A. Michener was one of the world's most popular writers, the author of more than forty books of fiction and nonfiction, including the Pulitzer Prize-winning Tales of the South Pacific, the bestselling novels The Source, Hawaii, Alaska, Chesapeake, Centennial, Texas, Caribbean, and Caravans, and the memoir The World Is My Home. Michener served on the advisory council to NASA and the International Broadcast Board, which oversees the Voice of America. Among dozens of awards and honors, he received America's highest civilian award, the Presidential Medal of Freedom, in 1977, and an award from the President's Committee on the Arts and Humanities in 1983 for his commitment to art in America. Michener died in 1997 at the age of ninety.
Praise For Alaska…
Praise for Alaska
 
"Few will escape the allure of the land and people [Michener] describes. . . . Alaska takes the reader on a journey through one of the bleakest, richest, most foreboding, and highly inviting territories in our Republic, if not the world. . . . The characters that Michener creates are bigger than life."—Los Angeles Times Book Review
 
"Always the master of exhaustive historical research, Michener tracks the settling of Alaska [in] vividly detailed scenes and well-developed characters."—Boston Herald
 
"Michener is still, sentence for sentence, writing's fastest attention grabber."—The New York Times
Advertisement