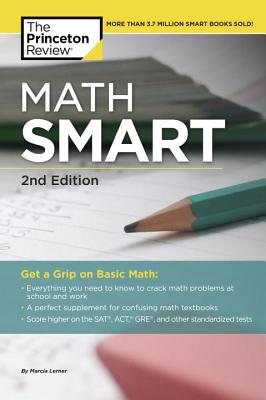 Math Smart, 2nd Edition: Get a Grip on Basic Math (Paperback)
Get a Grip on Basic Math
Princeton Review, 9780375762161, 320pp.
Publication Date: August 7, 2001
Description
NEVER GET CRUNCHED BY NUMBERS AGAIN. We all know math can be scary--but let's face it: you need a basic command of math to surivive in today's number-crunching world. That's why The Princeton Review created Math Smart.
This book uses an easy-to-follow approach to show you how to perform basic math operations like addition, subtraction, multiplication, and division. Once you've got that down, Math Smart teaches you how to handle the scary stuff--like exponents, square roots, geometry, and algebra.
Our user-friendly techniques break complicated problems down into their basic parts, so that you don't waste your time memorizing dozens of long formulas and equations.
THIS REVISED SECOND EDITION INCLUDES:
- Back-to-basics reviews of numbers, fractions, ratios & proportions, exponents & roots, algebra, geometry, and probability & statistics
- Tips and shortcuts to solve real-world math problems quickly
- A glossary of relevant terms for each chapter
- Chapter review quizzes with answers & explanations.
About the Author
The experts at The Princeton Review have been helping students, parents, and educators achieve the best results at every stage of the education process since 1981. The Princeton Review has helped millions succeed on standardized tests, and provides expert advice and instruction to help parents, teachers, students, and schools navigate the complexities of school admission. In addition to classroom courses in over 40 states and 20 countries, The Princeton Review also offers online and school-based courses, one-to-one and small-group tutoring as well as online services in both admission counseling and academic homework help.
Advertisement