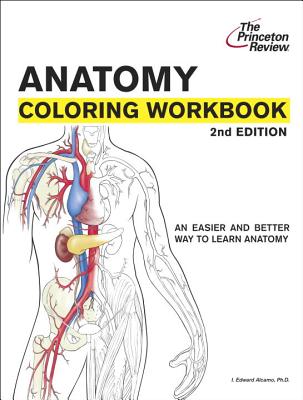 Anatomy Coloring Workbook, Second Edition (Paperback)
Princeton Review, 9780375763427, 304pp.
Publication Date: July 29, 2003
* Individual store prices may vary.
or
Not Currently Available for Direct Purchase
Description
Anatomy Coloring Workbook

The human body is wondrously complex, with 700 muscles, 206 bones, and countless cells and tissues. Studying and remembering all of them can be overwhelming.

The Anatomy Coloring Workbook gives you a clear and concise understanding of anatomy. The interactive approach to learning anatomy through coloring takes less time than memorizing from textbooks and flashcards. The coloring process thoroughly fixes anatomical concepts in your mind, and when you need to recall the material, you'll be able to visualize the body structures.

The diagrams and plates in the Anatomy Coloring Workbook have been created electronically, to give you a sharp, precise rendering of anatomical structures. We fully explain the concepts behind each coloring lesson to make the learning experience complete. We include an introductory section on anatomical terminology to get you started, coloring suggestions to assist you, and labels for easy identification and reference.

This book is an invaluable resource for students of anatomy, physiology, biology, psychology, nursing, medical technology, health administration, fitness education, nutrition, art, and more.

Medical practitioners, dentists and dental hygienists, physical and occupational therapists, educators, and professionals in scores of other fields will also find directed coloring a helpful means of review.

The 125 plates in the book are organized into the following sections:

Introduction to Anatomy
The Skeletal System
The Muscular System
The Nervous System
The Endocrine System
The Circulatory System
The Digestive System
The Respiratory System
The Urinary System
The Reproductive System
About the Author
The Princeton Review is the fastest growing test-preparation company in the country, with over 60 franchise offices in the nation. Each year, we help more than 2 million students prepare for college, grad school, professional licensing exams, and successful careers.
Advertisement