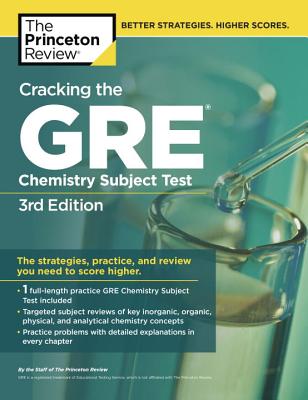 Cracking the GRE Chemistry Subject Test (Paperback)
Princeton Review, 9780375764899, 390pp.
Publication Date: September 20, 2005
Description
THE PRINCETON REVIEW GETS RESULTS. Getting a high score on the GRE(R) Chemistry Subject Test isn't about memorizing every formula or theory ever devised--it's about targeting how you prepare for the exam itself. We teach you only the information you'll need, along with the best strategies for the day of the test. Inside this book, you'll find practical information on the what, when, where, and how of the exam, plus subject review for all potential topics. Techniques That Actually Work.
- Effective strategies to help you beat the test and hit your top score
- Specialized tactics to avoid the trick questions that trap most students
- Alternative approaches to enable you to tackle the toughest questions with confidence Everything You Need to Know for a High Score.
- Practice problems for all content chapters to help you critically assess your progress
- Detailed subject review for all exam topics, including key concepts for inorganic, organic, physical, and analytical chemistry
- Study tips with useful advice from The Princeton Review's expert tutors and teachers.
About the Author
The experts at The Princeton Review have been helping students, parents, and educators achieve the best results at every stage of the education process since 1981. The Princeton Review has helped millions succeed on standardized tests, and provides expert advice and instruction to help parents, teachers, students, and schools navigate the complexities of school admission. In addition to classroom courses in over 40 states and 20 countries, The Princeton Review also offers online and school-based courses, one-to-one and small-group tutoring as well as online services in both admission counseling and academic homework help.
Advertisement