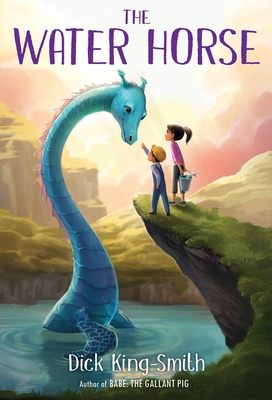 The Water Horse (Paperback)
Yearling Books, 9780375803529, 112pp.
Publication Date: June 13, 2000
Description
Now in paperback From the award-winning author of Babe: The Gallant Pig comes the story of how the Loch Ness monster finds his home, thanks to the human family that raises him.
About the Author
After 20 years as a farmer, Dick King-Smith turned to teaching and then to writing the children's books that have earned him critical acclaim on both sides of the Atlantic.
Praise For The Water Horse…
"When eight-year-old Kirstie finds a mysterious egg on the beach after a big storm, no one in the family expects it to hatch. But the next day, after a night in the bathtub, a mysterious little creature is born: part turtle, part horse, part frog, with an alligator tail. Only Kirstie's grandpa knows its true identity: a Water Horse, the sea monster of Scottish legend. The creature becomes a family pet, tamable and lovable, though with a huge appetite. As he grows and grows, the family must decide where to place him, somewhere away from those who would exploit him or, worse, accidentally become his dinner; perhaps Loch Ness would be safest. This well-written, fast-paced fantasy combines a popular subject with appealing, distinctive characters, humor, and drama. King-Smith's imaginative spin on an old myth makes the outrageous possible."--Booklist

"It's an ideal family read-aloud." --The Horn Book Magazine
Advertisement