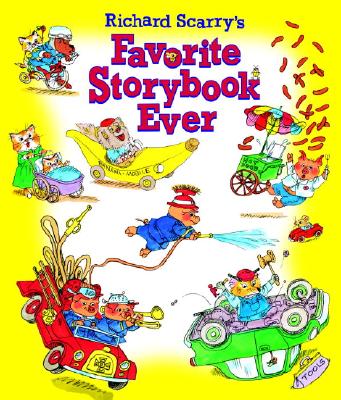 Richard Scarry's Favorite Storybook Ever (Hardcover)
Golden Books, 9780375825491, 72pp.
Publication Date: October 14, 2003
* Individual store prices may vary.
or
Not Currently Available for Direct Purchase
Description
Full of fun and adventure, Richard Scarry delivers what will truly become your Favorite Storybook Ever. This collection inncldues stories previously published in the classics Richard Scarry's Funniest Storybook Ever and Richard Scarry's What Do People Do All Day? Fiilled with beloved characters and humorous situations, this is a must-have for both new and long-time Richard Scarry fans. Contents:
The Talking Bread
The Three Fishermen
Mr. Fixit
Special Delivery
Tanglefoot
A Visit to the Hospital
Sergeant Murphy and the Banana Thief
Building a New Road
The Unlucky Day
Speedboat Spike
Set Sail
The Three Sitters
Absentminded Mr. Rabbit
The New House
The Accident
Ma Pig's New Car.
About the Author
Richard Scarry is one of the world's best-loved children's authors EVER! Generations of children all over the world have grown up spending hours poring over his books filled with all the colorful details of their daily lives. No other illustrator has shown such a lively interest in the words and concepts of early childhood. For himself, whenever he was asked how old he was, Scarry would always put up one hand and laugh, saying, "five!" Born in 1919, Richard Scarry was raised and educated in Boston, Massachusetts. After five years of drawing maps and designing graphics for the US Army, he moved to New York to pursue a career in commercial art. But after showing his portfolio to one of the original editors at Golden Books, he found the perfect home for his children's books. The assignments first given to Scarry tended to be Little Golden Books that featured popular characters of the day, such as Winky Dink, Rudolph the Red-Nosed Reindeer, and Smokey the Bear. Eventually Scarry created many original characters, such as Lowly Worm and Huckle Cat. But first came Nicholas, a young rabbit clad in red overalls, for the now-iconic board book I Am a Bunny. After Scarry married children's textbook writer Patricia Murphy, she wrote many stories for him as Patsy Scarry, including the bestselling Little Golden Books Good Night, Little Bear and The Bunny Book. In his extraordinary career, Richard Scarry illustrated more than 150 books, many of which have never been out of print. His books have sold over 100 million copies around the world and are currently published in more than 20 languages. Richard Scarry Jr., also an illustrator, carries on his father's work today under the name of Huck Scarry. Richard Scarry passed away at his home in Gstaad, Switzerland, in 1994. He was posthumously awarded a Lifetime Achievement Award from the Society of Illustrators in 2012.
Advertisement