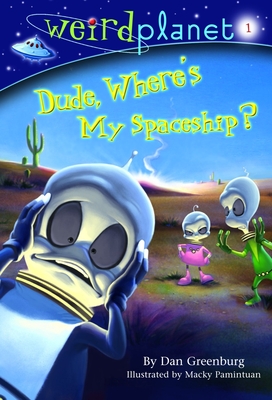 Dude, Where's My Spaceship? (Paperback)
Random House Books for Young Readers, 9780375833441, 81pp.
Publication Date: March 28, 2006
Description
Klatu is such a varna! He crashed the spaceship into planet Earth with his brother Lek and sister Ploo onboard. Stuck in the middle of the Nevada desert with nowhere to run, Ploo is captured by army Earthlings who think that she is an enemy of humankind. Can Klatu and Lek to rescue Ploo from the terrifying Major Paine? Or will Ploo be held prisoner in Area 51 forever?
About the Author
Dan Greenburg has known success as a humorist, a novelist, a journalist, a screenwriter, and a playwright. Greenburg has combined his love of humor, his interest in things paranormal, and his talent for writing to create books that kids like his own son will want to read, like the Weird Planet series. With 18 books to his credit, Dan Greenburg's work has been translated into 19 languages and is available in 22 countries. Born and raised in Chicago, Dan Greenburg received BA from the University of Illinois and his MA from UCLA. His son, Zack, played the title role in the motion picture Lorenzo's Oil and served as the inspiration for The Zack Files. Mr. Greenburg lives in Westchester County, New York. Macky Pamintuan is an animator, graphic illustrator, and fine artist. He has illustrated several chapter books and a picture book. He lives in Dinuba, California.
Advertisement