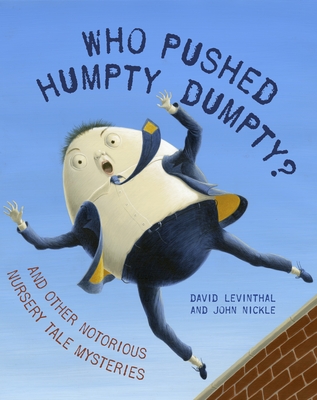 Who Pushed Humpty Dumpty?
And Other Notorious Nursery Tale Mysteries
Hardcover

* Individual store prices may vary.
Description
Break-in at the Three Bears family home? It could only be one dame. Wicked witch gone missing from her candied cottage? Hansel and Gretel claim it was self-defense. Did Humpty Dumpty really just fall off that wall, or was he pushed? Here are five fairy-tale stories with a twist, all told from the point of view of a streetwise police officer called Binky, who just happens to be a toad in a suit and a fedora. When Snow White doesn't make it to the beauty pageant, Officer Binky is the first to find the apple core lying by her bed. When an awful giant mysteriously crashes to the ground, upsetting the whole town, Binky discovers exactly who is responsible. Author David Levinthal and illustrator John Nickle retell these classic stories in the style of a 1940s noir detective novel—for kids!
Praise For Who Pushed Humpty Dumpty?: And Other Notorious Nursery Tale Mysteries…
The New York Times, August 23, 2012:
"That's the way the nursery rhyme crumbles in these humorous retellings, cast in the world of hard-boiled crime and private detectives."

The Huffington Post, August 6, 2012:
"The first children's book from the wildly creative Levinthal and I hope it won't be the last."

Booklist, September 15, 2012:
"Kids will certainly be familiar with all these stories, and Levinthal supplies just enough of a twist with each one to make them fresh again without necessarily reinventing any of them. What'll really stop kids in their tracks, though, is Nickle's acrylic artwork. His sophisticated touch is as equally suited to the dramatic, black-andwhite re-creations of the crimes as it is to the cheeky scenes of Binky gumshoeing about with various woodland creatures."

School Library Journal, September 2012:
"The tongue-in-cheek telling of tales will tickle the fancies of children familiar with the originals."
Schwartz & Wade, 9780375841958, 40pp.
Publication Date: September 25, 2012
About the Author
DAVID LEVINTHAL is a celebrated photographer known for his use of toy figurines and tableaux for his art. He illustrated the covers for the immensely popular, New York Times-bestselling books by Sarah Vowell—Assassination Vacation, The Wordy Shipmates, and Unfamiliar Fishes. He is also the author of I.E.D.: War in Iraq and Hitler Moves East: A Graphic Chronicle, 1941-43, among others. He has been the recipient of a National Endowment for the Arts fellowship and has been named a Guggenheim Fellow.

JOHN NICKLE is the amazing author and illustrator of Alphabet Explosion!, The Ant Bully, and TV Rex. He is also the illustrator of Judi Barrett's Never Take a Shark to the Dentist: And Other Things Not to Do and Things That Are Most in the World. The Ant Bully was made into a feature film in 2006.