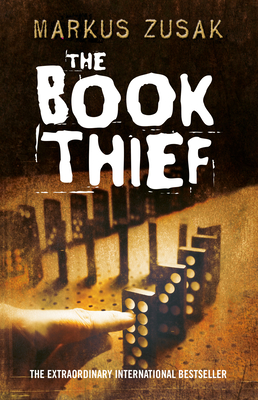 The Book Thief
Paperback

* Individual store prices may vary.
Other Editions of This Title:
Digital Audiobook (9/25/2006)
Paperback (10/15/2013)
Hardcover, Large Print (10/18/2006)
Prebound (9/11/2007)
CD-Audio (10/15/2013)
Prebound (9/11/2007)
Description
#1 NEW YORK TIMES BESTSELLER • ONE OF TIME MAGAZINE'S 100 BEST YA BOOKS OF ALL TIME

The extraordinary, beloved novel about the ability of books to feed the soul even in the darkest of times.

When Death has a story to tell, you listen.

It is 1939. Nazi Germany. The country is holding its breath. Death has never been busier, and will become busier still.

Liesel Meminger is a foster girl living outside of Munich, who scratches out a meager existence for herself by stealing when she encounters something she can't resist–books. With the help of her accordion-playing foster father, she learns to read and shares her stolen books with her neighbors during bombing raids as well as with the Jewish man hidden in her basement. 

In superbly crafted writing that burns with intensity, award-winning author Markus Zusak, author of I Am the Messenger, has given us one of the most enduring stories of our time.
 
"The kind of book that can be life-changing." —The New York Times
 
"Deserves a place on the same shelf with The Diary of a Young Girl by Anne Frank." —USA Today

DON'T MISS BRIDGE OF CLAY, MARKUS ZUSAK'S FIRST NOVEL SINCE THE BOOK THIEF.
Praise For The Book Thief…
"Brilliant and hugely ambitious…Some will argue that a book so difficult and sad may not be appropriate for teenage readers…Adults will probably like it (this one did), but it's a great young-adult novel…It's the kind of book that can be life-changing, because without ever denying the essential amorality and randomness of the natural order, The Book Thief offers us a believable hard-won hope…The hope we see in Liesel is unassailable, the kind you can hang on to in the midst of poverty and war and violence. Young readers need such alternatives to ideological rigidity, and such explorations of how stories matter. And so, come to think of it, do adults." -New York Times, May 14, 2006

"The Book Thief is unsettling and unsentimental, yet ultimately poetic. Its grimness and tragedy run through the reader's mind like a black-and-white movie, bereft of the colors of life. Zusak may not have lived under Nazi domination, but The Book Thief deserves a place on the same shelf with The Diary of a Young Girl by Anne Frank and Elie Wiesel's Night. It seems poised to become a classic."
- USA Today

"Zusak doesn't sugarcoat anything, but he makes his ostensibly gloomy subject bearable the same way Kurt Vonnegut did in Slaughterhouse-Five: with grim, darkly consoling humor."
- Time Magazine

"Elegant, philosophical and moving...Beautiful and important."
- Kirkus Reviews, Starred
"This hefty volume is an achievement...a challenging book in both length
and subject..."
- Publisher's Weekly, Starred

"One of the most highly anticipated young-adult books in years."
- The Wall Street Journal

"Exquisitely written and memorably populated, Zusak's poignant tribute to words, survival, and their curiously inevitable entwinement is a tour de force to be not just read but inhabited."
- The Horn Book Magazine, Starred

"An extraordinary narrative."
- School Library Journal, Starred

"The Book Thief will be appreciated for Mr. Zusak's audacity, also on display in his earlier I Am the Messenger. It will be widely read and admired because it tells a story in which books become treasures. And because there's no arguing with a sentiment like that."
- New York Times
Knopf Books for Young Readers, 9780375842207, 608pp.
Publication Date: September 11, 2007
About the Author
Markus Zusak is the internationally bestselling author of six novels, including The Book Thief and most recently, Bridge of Clay. His work is translated into more than forty languages, and has spent more than a decade on the New York Times bestseller list, establishing Zusak as one of the most successful authors to come out of Australia.

All of Zusak's books – including earlier titles, The Underdog, Fighting Ruben Wolfe, When Dogs Cry (also titled Getting the Girl), and The Messenger (or I am the Messenger) – have been awarded numerous honors around the world, ranging from literary prizes to readers choice awards to prizes voted on by booksellers.

In 2013, The Book Thief was made into a major motion picture, and in 2018 was voted one of America's all-time favorite books, achieving the 14th position on the PBS Great American Read. Also in 2018, Bridge of Clay was selected as a best book of the year in publications ranging from Entertainment Weekly to the Wall Street Journal. 

Markus Zusak grew up in Sydney, Australia, and still lives there with his wife and two children.
1. Discuss the symbolism of Death as the omniscient narrator of the novel. What are Death's feelings for each victim? Describe Death's attempt to resist Liesel. Death states, "I'm always finding humans at their best and worst. I see their ugly and their beauty, and I wonder how the same thing can be both." (p. 491) What is ugly and beautiful about Liesel, Rosa and Hans Hubermann, Max Vandenburg, Rudy Steiner, and Mrs. Hermann? Why is Death haunted by humans?
2. What is ironic about Liesel's obsession with stealing books? Discuss other uses of irony in the novel.
3. The Grave Digger's Handbook is the first book Liesel steals. Why did she take the book? What is significant about the titles of the books she steals? Discuss why she hides The Grave Digger's Handbook under her mattress. Describe Hans Hubermann's reaction when he discovers the book. What does the act of book thievery teach Liesel about life and death? Explain Rudy's reaction when he discovers that Liesel is a book thief. How does stealing books from the mayor's house lead to a friendship with the mayor's wife? Explain how Liesel's own attempt to write a book saves her life.
4. Liesel believes that Hans Hubermann's eyes show kindness, and from the beginning she feels closer to him than to Rosa Hubermann. How does Hans gain Liesel's love and trust? Debate whether Liesel is a substitute for Hans's children, who have strayed from the family. Why is it so difficult for Rosa to demonstrate the same warmth toward Liesel? Discuss how Liesel's relationship with Rosa changes by the end of the novel.
5. Abandonment is a central theme in the novel. The reader knows that Liesel feels abandoned by her mother and by the death of her brother. How does she equate love with abandonment? At what point does she understand why she was abandoned by her mother? Who else abandons Liesel in the novel? Debate whether she was abandoned by circumstance or by the heart.
6. Guilt is another recurring theme in the novel. Hans Hubermann's life was spared in France during World War I, and Erik Vandenburg's life was taken. Explain why Hans feels guilty about Erik's death. Guilt is a powerful emotion that may cause a person to become unhappy and despondent. Discuss how Hans channels his guilt into helping others. Explain Max Vandenburg's thought, "Living was living. The price was guilt and shame." (p. 208) Why does he feel guilt and shame?
7. Compare and contrast the lives of Liesel and Max Vandenburg. How does Max's life give Liesel purpose? At what point do Liesel and Max become friends? Max gives Liesel a story called "The Standover Man" for her birthday. What is the significance of this story?
8. Death says that Liesel was a girl "with a mountain to climb." (p. 86) What is her mountain? Who are her climbing partners? What is her greatest obstacle? At what point does she reach the summit of her mountain? Describe her descent. What does she discover at the foot of her mountain?
9. Hans Junior, a Nazi soldier, calls his dad a coward because he doesn't belong to the Nazi Party. He feels that you are either for Hitler or against him. How does it take courage to oppose Hitler? There isn't one coward in the Hubermann household. Discuss how they demonstrate courage throughout the novel.
10. Describe Liesel's friendship with Rudy. How does their friendship change and grow throughout the novel? Death says that Rudy doesn't offer his friendship "for free." (p. 51) What does Rudy want from Liesel? Discuss Death's statement, "The only thing worse than a boy who hates you [is] a boy who loves you." (p. 52) Why is it difficult for Liesel to love Rudy? Discuss why Liesel tells Mr. Steiner that she kissed Rudy's dead body.
11. How does Zusak use the literary device of foreshadowing to pull the reader into the story?
12. Liesel Meminger lived to be an old woman. Death says that he would like to tell the book thief about beauty and brutality, but those are things that she had lived. How does her life represent beauty in the wake of brutality? Discuss how Zusak's poetic writing style enhances the beauty of Liesel's story.