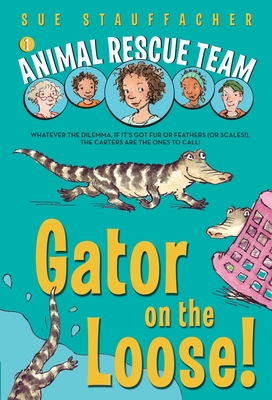 Animal Rescue Team
Gator on the Loose!
Paperback

* Individual store prices may vary.
Description
Meet the Carters: Mr. and Mrs. Carter, 10-year-old daughter Keisha, five-year-old Razi, baby Paolo, and Grandma Alice. Together, they run Carters' Urban Rescue, the place you call when you've got an animal where it shouldn't be. In their first adventure, there's a baby alligator at the city pool, which will seriously interfere with opening day, especially Keisha's cannonball practice. So it's up to the whole family to figure out what to do with the poor guy who has no business hanging around Michigan. Luckily for all of them, and thanks to some serious ingenuity from Keisha, the answer is closer than they ever could have imagined.
 
Sue Stauffacher turns to her first series effort with Animal Rescue Team. With compelling plots based on actual events in her community, Sue has created a lovable cast of characters of boys and girls, young and old, who feel like people you'd meet at your neighborhood block party. Written in an accessible and engaging style meant to appeal to those independent readers looking to be excited and entertained, and with subplots about friendship, siblings, the environment, and animal conservation, along with plenty of humor, these will be a hit with teachers and librarians, and parents, as well as kids themselves.
Praise For Animal Rescue Team: Gator on the Loose!…
"Situational comedy, appealing spot art, and a personable protagonist will give this series broad appeal"- Booklist

"Take one appealing family, add a fashion-crazy grandmother, mix with one abandoned alligator, and you have the first in a promising new series for middle-grade readers."-The Horn Book Magazine 

"An excellent family or classroom readaloud, and kids (and adults) who join the Carter team will eagerly await their next adventure."-The Bulletin of the Center for Children's Books

"Grand Rapids resident Sue Stauffacher knows her audience. She gets that young readers love animals, adventure and lots of action. She gets that parents and teachers are looking for stories that broaden children's understanding of family and the world. All those things come together on Stauffacher's new Animal Rescue Team series."-The Grand Rapids Press
Yearling, 9780375851315, 160pp.
Publication Date: May 10, 2011
About the Author
Sue Stauffacher lives with her husband and sons in a 150+-year-old farmhouse in the city of Grand Rapids, Michigan. Over the years, possums, bats, raccoons, mice, squirrels, crows, ducks, woodchucks, chipmunks, voles, skunks, bunnies, and a whole bunch of other critters have lived on the property. Though Sue is not a rehabilitator herself, she is passionate about helping kids know what to do when the wild meets the child.
 
A longtime advocate for literacy, Sue speaks around the country, connecting kids with books to help grow lifelong readers. She is a former book reviewer, and her novels for young readers include Harry Sue, Donutheart, and Donuthead. To learn more about Sue and her books, visit her on the Web at www.suestauffacher.com.
or
Not Currently Available for Direct Purchase