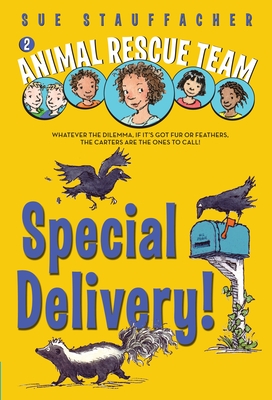 Animal Rescue Team
Special Delivery!
Paperback

* Individual store prices may vary.
Description
Keisha and her family are just sitting down to Saturday-morning breakfast when the phone rings. Uh-oh! There seems to be a skunk at the community garden, and it's dug a hole under the shed. At the same time, Mr. Sanders can't deliver the mail to a certain house: crows keep dive-bombing him when he gets near the mailbox. Time for the Animal Rescue Team to spring into action! This time they've got two mysteries to solve: What could crows have against mail delivery? And what really dug that hole at the community garden--as Mama knows, it's too big to have been dug by a skunk. Once again, it'll take the whole team, along with help from some new friends, to sort out what, and who, is creating all this mayhem around town.
 
Sue Stauffacher turns to her first series effort with Animal Rescue Team. With compelling plots based on actual events in her community, Sue has created a lovable cast of characters of boys and girls, kids and adults, who feel like people you'd meet at your neighborhood block party. Written in an accessible and engaging style meant to appeal to independent readers looking to be excited and entertained, and with subplots about friendship, siblings, the environment, and animal conservation, along with plenty of humor, these will be a hit with teachers and librarians, and parents, as well as kids themselves.
Praise For Animal Rescue Team: Special Delivery!…
"Situational comedy, appealing spot art, and a personable protagonist will give this series broad appeal"- Booklist

"a promising new series for middle-grade readers."-The Horn Book Magazine 

"Grand Rapids resident Sue Stauffacher knows her audience. She gets that young readers love animals, adventure and lots of action. She gets that parents and teachers are looking for stories that broaden children's understanding of family and the world. All those things come together on Stauffacher's new Animal Rescue Team series."-The Grand Rapids Press

"An excellent family or classroom readaloud, and kids (and adults) who join the Carter team will eagerly await their next adventure."-The Bulletin of the Center for Children's Books

Yearling, 9780375851322, 176pp.
Publication Date: May 10, 2011
About the Author
Sue Stauffacher lives with her husband and sons in a 150+-year-old farmhouse in the city of Grand Rapids, Michigan. Over the years, possums, bats, raccoons, mice, squirrels, crows, ducks, woodchucks, chipmunks, voles, skunks, bunnies, and a whole bunch of other critters have lived on the property. Though Sue is not a rehabilitator herself, she is passionate about helping kids know what to do when the wild meets the child.

A longtime advocate for literacy, Sue speaks around the country, connecting kids with books to help grow lifelong readers. She is a former book reviewer, and her novels for young readers include Harry Sue, Donutheart, and Donuthead. To learn more about Sue and her books, visit her on the Web at www.suestauffacher.com.
or
Not Currently Available for Direct Purchase