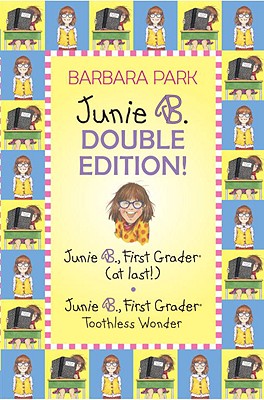 A Junie B. Jones Double Edition: 1st Grader at Last/1st Grader Toothless Wonder (Hardcover)
1st Grader at Last/1st Grader Toothless Wonder
Random House Books for Young Readers, 9780375853944, 162pp.
Publication Date: September 23, 2008
* Individual store prices may vary.
or
Not Currently Available for Direct Purchase
Description
"Wowie, wow, wow It's double the laughs with two Junie B. books in one "
For the first time ever, it's two Junie B. books in one hysterical hardcover bindup The perfect gift book for Junie fans
"Junie B., First Grader (at Last )
"It's a brand-new school year Only, for Junie B. Jones things are not actually that pleasant. 'Cause first grade means having to get used to a whole new classroom. And a whole new teacher. And a whole new bunch of strange children. But here's the worst thing of all: when Junie B. tries to read words on the chalkboard, she can't seem to see what everyone else is seeing IS it possible she might actually end up wearing . . . glasses?
"Junie B., First Grader: Toothless Wonder
"Yikes . . . one of Junie B. Jones's front teeth is loose Only, Junie B. is not that thrilled about this development. Because what if she looks like toothless Uncle Lou? And even worse . . . what's all this tooth fairy business? Like, who is this woman, really? And what does she do with all those used teeth? So many questions, so little time.
About the Author
BARBARA PARK is best known as the author of the wildly popular "New York Times" bestselling Junie B. Jones series, which has kept kids (and their grown-ups) laughing and reading for over two decades. Beloved by millions, the Junie B. Jones books have been translated into multiple languages and are a time-honored staple in elementary school classrooms around the world. Barbara once said, I ve never been sure whether Junie B. s fans love her in spite of her imperfections or because of them. But either way, she s gone out into the world and made more friends than I ever dreamed possible.

Barbara Park is also the author of award-winning middle grade novels and bestselling picture books, including "Skinnybones, Mick Harte Was Here, " and "Ma! There s Nothing to Do Here!

"

Barbara Park was born in New Jersey in 1947 and spent most of her adult life in Arizona, where she and her husband, Richard, raised two sons. Barbara died in 2013, but her legacy lives on in the laughter her books give to readers all over the world.

Denise Brunkus's entertaining illustrations have appeared in over 50 books, including each Junie B. title. She lives in Massachussetts with her husband and daughter."
Advertisement