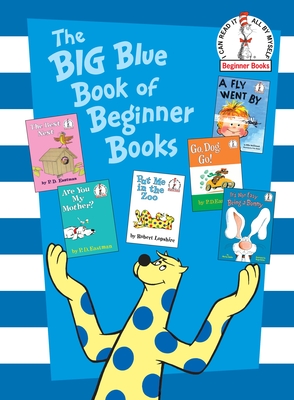 The Big Blue Book of Beginner Books (Beginner Books(R))
Hardcover

* Individual store prices may vary.
Description
What could make a better present than a classic Beginner Book? Six of them—for less than the price of two! We've taken the complete text and art of three beloved P.D. Eastman titles: Go, Dog. Go!, Are You My Mother?, and The Best Nest; Robert Lopshire's Put Me In the Zoo (the first of his books featuring the character Spot); Marilyn Sadler and Roger Bollen's It's Not Easy Being a Bunny (the first PJ Funnybunny story); and Mike McClintock's charming, cautionary tale A Fly Went By, and bound them together in one sturdy hardcover omnibus. A perfect introduction to reading that will whet young readers appetites for additional books in the Beginner Book series.
Random House Books for Young Readers, 9780375855528, 368pp.
Publication Date: September 23, 2008
About the Author
P. D. Eastman was an author-illustrator who created many children's books, including Are You My Mother?, Go, Dog. Go!, and The Best Nest. Trained at the National Academy of Design, he enlisted in the army in 1943 and was assigned to the Signal Corps Film Unit—which was headed by Theodor Geisel, who would eventually become known to the world as Dr. Seuss. After Geisel later approached him to write for his new Beginner Book series at Random House, Eastman published his first book, Sam and the Firefly. Since then, Random House has sold more than 30 million books by P. D. Eastman, and he has become one of the most beloved children's book authors in the world.