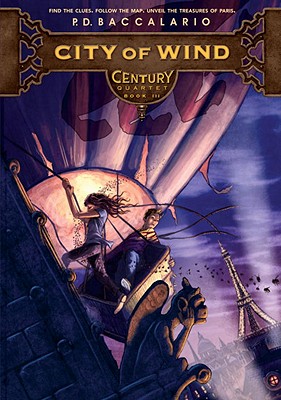 Century #3: City of Wind (Hardcover)
City of Wind
Random House Books for Young Readers, 9780375858970, 304pp.
Publication Date: September 27, 2011
* Individual store prices may vary.
or
Not Currently Available for Direct Purchase
Description
In the third installment of the Century Quartet, Italian author P. D. Baccalario continues the mystery that will take four cities and four extraordinary kids to solve.

PARIS, JUNE 20

When new information turns up about the Star of Stone, the object they found in New York, Mistral, Elettra, Harvey, and Sheng meet again in Paris. Harvey brings the stone to show to his dad's archaeologist friend. And it turns out that the friend knows much more about the kids' quest than they could have imagined. She gives them a clock that once belonged to Napoléon, and she tells them that if they can figure out how it works, it will lead them to another object of power. The clock sends the kids all over Paris, through old churches and forgotten museum exhibits, in search of an artifact linked to the Egyptian goddess Isis. But a woman with a penchant for venomous snakes and carnivorous plants—and her vast network of spies—is watching their every move. . . .

Fans of Blue Balliet, Trenton Lee Stewart, and Michael Scott will be drawn to this Da Vinci Code-like adventure for kids.
About the Author
P. D. BACCALARIO was born in Acqui Terme, a beautiful little town in the Piedmont region of Northern Italy. He grew up in the middle of the woods with his three dogs and his black bicycle. He loves seeing new places and discovering new lifestyles, although, in the end, he always returns to the comfort of familiar ones.
Advertisement