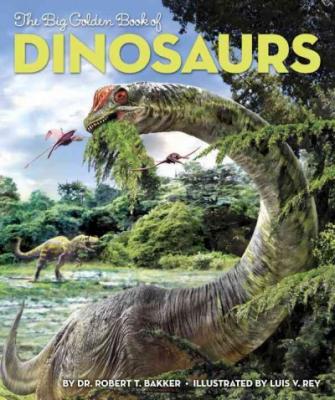 The Big Golden Book of Dinosaurs (Hardcover)
Golden Books, 9780375859588, 64pp.
Publication Date: September 24, 2013
* Individual store prices may vary.
or
Not Currently Available for Direct Purchase
Description
Renowned paleontologist Robert T. Bakker and award-winning paleoartist Luis V. Rey combine forces in this oversized picture book about the evolution of dinosaurs. From the conquest of land by dino ancestor Acanthostega during the Devonian Period, through the mass die-off of dinosaurs at the end of the Cretaceous Period, Bakker and Rey take readers on a safari through time while paying subtle homage to the 1960 Giant Golden Book Dinosaurs and Other Prehistoric Reptiles that inspired them both as young dinophiles. With stops along the way to look at monster bugs, ferocious fin-backs, fluffy dinosaurs, sea monsters and the 12-year-old girl who discovered them, dinosaur orchestras, tickling tyrannosaurs, and much, much more, this is a journey readers will never forget. It's a perfect gift for young dinosaur lovers as well as adult fans of Dr. Bakker and Luis Rey
About the Author
DR. ROBERT T. BAKKER is one of the most respected vertebrate paleontologists in the world. Often credited with starting the "Dinosaur Rennaisance," he is Curator of Paleontology at the Houston Museum of Natural Science. LUIS V. REY is the winner of the 2008 Lazendorf PaleoArt Award the most prestigious international award recognizing achievement in paleontological scientific illustration."
Praise For The Big Golden Book of Dinosaurs…
(++++) "Bakker does a fine job of connecting prehistory with young children's world today, by showing how mammals evolved during the age of dinosaurs and then began to dominate the world after dinosaurs were gone--thus explaining how "the dinosaur story is really our story, too." The Big Golden Book of Dinosaurs tackles a large and complex subject in clear, understandable form, and hopefully will serve as an introduction for yet another generation of young people to prehistoric creatures that continue to fascinate so many of us today.  --INFODAD.COM, 10/31/2013
Advertisement