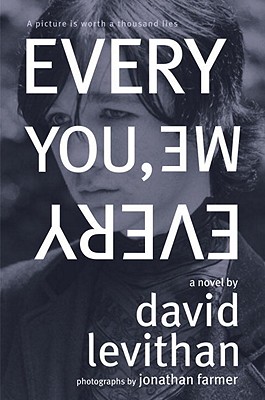 Every You, Every Me
Hardcover

* Individual store prices may vary.
Other Editions of This Title:
Paperback (9/11/2012)
Description
In this high school-set psychological tale, a tormented teen named Evan starts to discover a series of unnerving photographs some of which feature him. Someone is stalking "him" . . . messing with him . . . threatening him. Worse, ever since his best friend Ariel has been gone, he's been unable to sleep, spending night after night torturing himself for his role in her absence. And as crazy as it sounds, Evan's starting to believe it's Ariel that's behind all of this, punishing him. But the more Evan starts to unravel the mystery, the more his paranoia and insomnia amplify, and the more he starts to unravel himself. Creatively told with black-and-white photos interspersed between the text so the reader can see the photos that are so unnerving to Evan, "Every You, Every Me" is a one-of-a-kind departure from a one-of-a-kind author.
Praise For Every You, Every Me…
Starred Review, The Bulletin of the Center for Children's Books, October 2011
"Between us, we were supposed to know you," says the narrator of this poignant novel. The "you" he addresses there is a girl named Ariel, whose lacerating absence is keenly felt; the "us" is narrator Evan, who loved her beyond anything but couldn't have her to himself, and Jack, Ariel's boyfriend, to whom Evan turns after Ariel's departure. Evan narrates in tense, jagged sentences that bleed with raw emotion as he fights for control, often crossing out the most revealing utterances as he tips into stream of consciousness, and reveals piece by piece that the very troubled Ariel attempted to kill herself. Already haunted by guilt and grief, Evan is further tormented by the photographs someone has been strategically leaving for him, photographs that shadow his actions with Ariel and suggest there was someone in Ariel's life about whom he knew nothing. Levithan creates an immersive emotional experience here, with Evan easily recognizable as the boy who was already settling for being a friend when he ached to be more. The mystery is poetically enigmatic, with the reproduced pictures tantalizingly ambiguous even as they fit into the narrative; on the way, however, there are other mysteries readers will be exploring, piecing together the answer to questions such as "What happened to Ariel?" and "Is this all in Evan's mind?" The book manages to imbue a not-uncommon teen crisis and dynamic with the sharp significance of the rare, and the slight artifice of its approach will only enhance the draw of what is undoubtedly the Emo Book of the Year. DS
Alfred A. Knopf Books for Young Readers, 9780375860980, 248pp.
Publication Date: September 13, 2011
About the Author
David Levithan has taken at least one photograph every day for the past ten years. However, he is much better known for his novels, which include "Boy Meets Boy, The Realm of Possibility, Are We There Yet?, Wide Awake, Love is the Higher Law," " "and (with John Green) "Will Grayson, Will Grayson. "He s written three books with Rachel Cohn as well: "Nick & Norah s Infinite Playlist, Naomi and Ely s No Kiss List," " "and "Dash & Lily s Book of Dares. "In truth, though, he probably spends more time wandering around with his camera than he does sitting at his computer writing. He particularly loves taking pictures of passersby, and New York City is perfect for that. He met Jonathan Farmer because of Jonathan s likeness to a young Walt Whitman.

Jonathan Farmer, to this very day, has not, cannot, and may" never" decide just what it is he wants to be when he grows up. Once, he thought he had found the perfect descriptor "Naturalist" but David said that just made him sound like a botanist . . . or a nudist. Since then, Jonathan has narrowed it down to: photographer, performer, writer, director, and teacher. He spent his early years exploring the mysterious forests of New Hampshire. But now, since moving to Brooklyn, NY, Jonathan has been growing to love the hustle and bustle of the city. From time to time, though, you might catch him longing for the sweet smell of the pines. Visit Jonathan at jwfarmer.com."
or
Not Currently Available for Direct Purchase