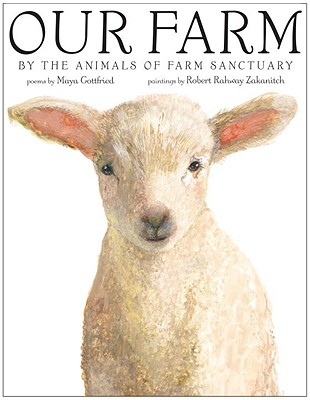 Our Farm (Hardcover)
By the Animals of Farm Sanctuary
Knopf Books for Young Readers, 9780375861185, 40pp.
Publication Date: February 9, 2010
* Individual store prices may vary.
Description
Maya the cow, J.D. the piglet, Hilda the sheep, and a dozen more animals all speak directly to the reader, showing off their unique personalities in this wonderful collection of poems. Master watercolorist Robert Rahway Zakanitch provides a portrait that perfectly captures the essence of each creature. Together the poems and paintings add up to a picture of life on the friendliest farm around.

Maya Gottfried based her poems on real animals from Farm Sanctuary, a safe haven for injured or abused farm animals with locations in New York and California.
About the Author
Maya Gottfried is a writer of poetry and prose for both children and adults. She works for a publishing company in New York City, and has served as a volunteer for Farm Sanctuary. Maya Gottfried lives in Brooklyn, New York.

Robert Rahway Zakanitch is an artist who lives and works in New York City. He was awarded a Guggenheim Foundation Grant, and his work is represented in many museum collections. Read more about his work at www.zakanitch.com.
Praise For Our Farm: By the Animals of Farm Sanctuary…
"Maya Gottfried cleverly captures the creative writing styles of various livestock ("Yummy pants leg, can I try some?" ask two baby goats), while charming watercolors from Robert Rahway Zakanitch capture the fretful face of a calf named Whitaker, or the defiance in the eye of a duck named Diego." — Minneapolis Star-Tribune
 
"…each fetching personality is nudged along by the poetic lines of Maya Gottfried. There is a subtle message here, to be sure—all the world's creatures deserve care and respect—but it is handled with a very light touch. Robert Zakanitch's watercolors are quite wonderful…." — Pittsburgh Tribune-Review
 
"A lovely farm collection perfect for spring." — Midwest Book Review
 
"There are few books for young kids on this subject. From the cover image of one vulnerable lamb to the farm overviews on the endpapers, the physical images about the joy of home will move young animal lovers and those who read to them." — Booklist
 
"The third collaboration from this talented pair ... presents an assortment of farm animals through short, humorous poems and whimsical paintings that give each animal a distinct personality." — Kirkus Reviews
 
"Splendid to look at, pleasant to read, Our Farm is a fine springboard for talking about the real lives of farm animals in America." — School Library Journal
 
"Our Farm will make you a better man. If you need to melt someone's heart for Vday, we suggest doing it the old-fashioned way. What lover wouldn't go crazy for a tender-hearted man that reads poetry to them?" — TheDiscerningBrute.com
 
"I couldn't tear myself away from the book." — Compassionate Cooks
 
"If I had a kid, I would definitely read him/her this thought-provoking book. It humanizes animals that children normally expect to be on their dinner plate, but in such a subtle and creative way." — Vegansaurus.com
 
"...there's a new breed of books coming out that are explicitly vegan-friendly, like Maya Gottfried's Our Farm: By the Animals of Farm Sanctuary. Maya's fun (but not overly cutesy) poems are a perfect match for the paintings and sketches by Robert Rahway Zakanitch." — The Veg Blog
 
"The book is meant for children, and it is certainly recommended for them, but it can be just as much enjoyed by grown-ups who love animals, art, and/or poetry. We hope it will draw readers to Farm Sanctuary to make friends with the 'authors.'" — VegetarianFriends.net
 
"This publication is a must have in every animal lover's library. And like Ms. Gottfried's other work, Good Dog, this one also makes a fine coffee table addition!" — VegBooks.org