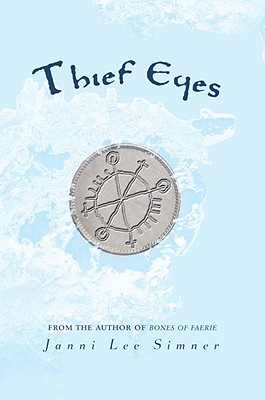 Thief Eyes (The Bones of Faerie Trilogy)
Hardcover

* Individual store prices may vary.
Description
The latest YA fantasy book from Bones of Faerie author Janni Lee Simner!

After her mother mysteriously disappears, sixteen-year-old Haley convinces her father to take her to Iceland, where her mother was last seen. There, amidst the ancient fissures and crevices of that volcanic island, Haley meets gorgeous Ari, a boy with a dangerous side who appoints himself her protector.

When Haley picks up a silver coin that entangles her in a spell cast by her ancestor Hallgerd, she discovers that Hallgerd's spell and her mother's disappearance are connected to a chain of events that could unleash terrifying powers and consume the world. Haley must find a way to contain the growing fires of the spell—and her growing attraction to Ari.

Janni Lee Simner brings the fierce romance and violent passions of Iceland's medieval sagas into this twenty-first-century novel, with spellbinding results.
Random House Books for Young Readers, 9780375866708, 272pp.
Publication Date: April 27, 2010
About the Author
Janni Lee Simner first became fascinated with the Icelandic sagas—and with the woman whose uncle said she had the eyes of a thief—during a visit to Iceland. Standing in the rift valley of Thingvellir with a battered copy of Njal's Saga in her backpack, she realized the characters she was reading about had walked the same ground. As the wind blew around her, she sat down and wrote the opening scene of Thief Eyes.

Janni lives more than four thousand miles from Iceland in Tucson, Arizona, where the hot, dry desert weather is about as unlike Iceland as one can get and still be on the same planet. She's also the author of four books for younger readers and more than thirty short stories. Janni is currently working on the sequel to her first young adult novel, Bones of Faerie.

To learn more about Janni, visit her Web site at www.simner.com.
or
Not Currently Available for Direct Purchase