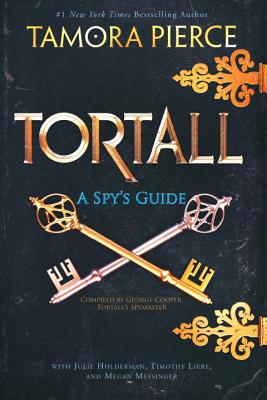 Tortall
A Spy's Guide
Hardcover

* Individual store prices may vary.
Other Editions of This Title:
Digital Audiobook (10/30/2017)
Description
The must-have guide for any fan of #1 New York Times bestselling fantasy author TAMORA PIERCE! Enter the world of Tortall in this full-color, behind-the-scenes collectible guide, brought to you by the author who Sarah J. Maas says "shaped [her] not only as a young writer but also as a young woman" and whom Leigh Bardugo calls "the real lioness."
 
The secrets of Tortall are revealed. . . .
 
As Tortall's spymaster, George Cooper has sensitive documents from all corners of the realm. When Alanna sends him a surprising letter, he cleans out his office and discovers letters from when King Jonathan and Queen Thayet first ascended the throne, notes on creating the Shadow Service of spies, threat-level profiles on favorite characters, Daine's notes on immortals, as well as family papers, such as Aly's first report as a young spy and Neal's lessons with the Lioness. This rich guide also includes the first official timeline of Tortallan events from when it became a sovereign nation to the year Aly gives birth to triplets. Part history, part spy training manual, and entirely fascinating, this beautiful guide makes a perfect gift and is ideal for anyone who loves Alanna, King Jonathan, Queen Thayet, Kel, Neal, Aly, Thom, Daine, Numair, and the unforgettable world of Tortall!
 
"Tamora Pierce creates epic worlds populated by girls and women of bravery, heart, and strength. Her work inspired a generation of writers and continues to inspire us." —HOLLY BLACK, #1 New York Times bestselling author
 
"Few authors can slay so effectively with a single sentence—I mean fist-in-the-air, shouting-at-my-book slay—as Tamora Pierce. All these years later, I still draw strength from her words." —MARIE LU, #1 New York Times bestselling author
Praise For Tortall: A Spy's Guide…
"Tamora Pierce didn't just blaze a trail. Her heroines cut a swath through the fantasy world with wit, strength, and savvy. Her stories still lead the vanguard today. Pierce is the real lioness, and we're all just running to keep pace."
—LEIGH BARDUGO, #1 New York Times bestselling author
 
"Tamora Pierce's books shaped me not only as a young writer but also as a young woman. Her complex, unforgettable heroines and vibrant, intricate worlds blazed a trail for young adult fantasy—and I get to write what I love today because of the path she forged throughout her career. She is a pillar, an icon, and an inspiration. Cracking open one of her marvelous novels always feels like coming home."
—SARAH J. MAAS, #1 New York Times bestselling author
 
"In the world of YA fantasy, there's before Tamora Pierce, and then there's after her female heroes started kicking down the doors (and walls, and other barriers)! Having been with Tammy at signings and listened to the young women who speak from their hearts about how they were empowered by her books, I know it is impossible to overstate her impact!"
—BRUCE COVILLE, New York Times bestselling author
 
"Tamora Pierce is a trailblazer for so many fantasy writers, hacking through the old tropes with her narrative machete and showing us that girl-centered adventures are not just possible but amazing. Many of us might have peered at the impenetrable thicket of traditional fantasy and given up before we even began, if not for her."
—RACHEL HARTMAN, New York Times bestselling author
 
"Tamora Pierce's writing is like water from the swiftest, most refreshingly clear, invigorating, and revitalizing river. I return to her books time and time again."
—GARTH NIX, New York Times bestselling author
 
"It's impossible to overstate Tamora Pierce's impact on children's literature. Her tough, wise, and wonderful heroines have inspired generations of readers. Her encouragement of up-and-coming authors is unparalleled. Thank you, Tammy, for Alanna and Beka and more, for your generosity of spirit, for your incredible legacy."
—RAE CARSON, New York Times bestselling author
 
"Tamora Pierce's novels gave me a different way of seeing the world. They were like nothing I'd encountered before. Alanna stormed her way into my thirteen-year-old heart and told me that I could write gorgeous, complicated novels about vibrantly real people in fantastic situations, and, to be honest, she's never left."
—ALAYA DAWN JOHNSON, award-winning author of Love Is the Drug
 
"Tamora Pierce is the queen of YA fantasy, and we are all happy subjects in her court."
—JESSICA CLUESS, author of A Shadow Bright and Burning
Random House Books for Young Readers, 9780375867675, 320pp.
Publication Date: October 31, 2017
About the Author
TAMORA PIERCE is the #1 New York Times bestselling author of over eighteen novels set in the fantasy realm of Tortall. She first captured the imagination of readers with her debut novel, Alanna: The First Adventure. Since then, her bestselling and award-winning titles have pushed the boundaries of fantasy and young adult novels to introduce readers to a rich world populated by strong, believable heroines. Her books have been translated into many languages, and some are available on audio from Listening Library and Full Cast Audio. In 2013, she won the Margaret A. Edwards Award for her "significant and lasting contribution to young adult literature." Pierce lives in Syracuse, New York, with her husband, Tim, and their cats, birds, and occasional rescued wildlife. Visit her at TamoraPierce.com and follow her on Twitter at @TamoraPierce.


JULIE HOLDERMAN writes stuff and loves cats. A once-upon-a-time graduate of the Alpha Workshop for Young Writers, she returned ten years later to serve as a staff member. She studied writing and history at Ithaca College and is eyeing an MA in history, in pursuit of a PhD. She works full-time as Tamora Pierce's assistant while building her writing portfolio.

TIMOTHY LIEBE is the "Dreaded Spouse-Creature" and IT Guy for fantasy novelist Tamora Pierce, as well as her coauthor on the Marvel Comics White Tiger miniseries. He has written for National Public Radio, CNET, USA Network, and Pacifica Network and spent a decade as a consumer-electronics journalist and editor. An Army brat, Tim traveled the U.S. Midwest and Germany as a child.
 
MEGAN MESSINGER's work has appeared in Cicada, Fantasy Magazine, and Electric Velocipede, as well as other publications, and received an honorable mention in Datlow, Link, and Grant's 2007 Year's Best Fantasy and Horror. Megan discovered the books of Tamora Pierce, Bruce Coville, and Jane Yolen while home sick with the chicken pox in second grade—clearly the most fortuitous case of chicken pox ever. She lives with one foot in Tortall always; these days, the other foot and most of her vital organs are attending medical school in California.
or
Not Currently Available for Direct Purchase