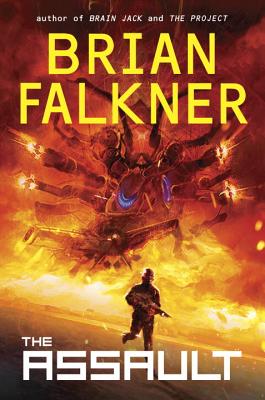 The Assault (Hardcover)
Random House Books for Young Readers, 9780375869464, 288pp.
Publication Date: September 25, 2012
Other Editions of This Title:
Paperback (6/1/2018)
Prebound (9/10/2013)
* Individual store prices may vary.
Description
It's 2030, and humanity is losing the war against alien invaders. A Band of Brothers meets Ender's Game in this sci-fi military thriller.

A team of six has been chosen . . .

. . . to infiltrate the enemy's headquarters in the heart of the Australian Outback. The six teens have been modified to look like aliens. They have spent years mastering alien culture so that they can talk, act—even think—like their enemies. But from the start, the recon mission goes terribly wrong. It's only when they are close to discovering the shocking truth of the aliens' plans that the team is forced to ask:

Who among them is a traitor?

Brian Falkner, author of The Project, Brain Jack, and The Tomorrow Code, delivers a page-turning military thriller with his signature heart-pounding action and unique sci-fi twists.

Hand this to teens who love playing Call of Duty and Halo!

"Falkner supplies a tight story that features a strong plot and believable characters. . . . [He] effectively employs the tropes of both survival and war stories to great effect. While an entirely satisfying read on its own, readers can only hope there is a second installment in the works."—Kirkus Reviews

About the Author
A native New Zealander, BRIAN FALKNER now lives on the other side of the Tasman Sea, in Australia. To research the settings for "The Assault," he camped in the Australian Outback, sleeping under the stars and visiting Uluru. Brian is also the author of "The Tomorrow Code, Brain Jack, "and "The Project." Find him online at brianfalkner.com.