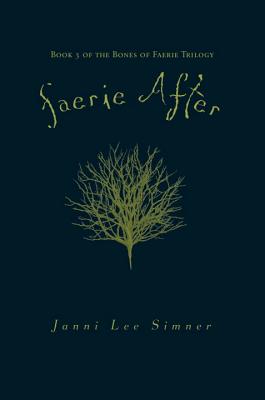 Faerie After
Book 3 of the Bones of Faerie Trilogy
Hardcover

* Individual store prices may vary.
Other Editions of This Title:
Paperback (6/26/2020)
Description
The stunning conclusion to the Bones of Faerie trilogy is here!

After a devastating war between humanity and Faerie, Liza's world was forever changed. Plants and trees became aggressive, seeking to root in living flesh and bone, and newborn children were discovered to have magical powers. Liza was one of these children, and with her abilities she brought her mother back from the ruined Faerie realm and restored the seasons to her own.

Now there are signs of a new sickness in the forest. Piles of ash are found where living creatures once stood. Liza investigates and discovers that the Faerie realm has continued to deteriorate, slowly turning to dust, and that its fate is inexorably linked to that of the human realm. To find a solution, Liza must risk crossing over, putting herself and all she cares about at risk. Will Liza be forced to sacrifice her life and the lives of her friends in order to save both worlds?

Fans of dark fantasy and dystopian adventure were entranced by Janni Lee Simner's Bones of Faerie and Faerie Winter. Now readers of Holly Black, Melissa Marr, and Cassandra Clare can return to Janni's unique vision of a magic-infused postapocalyptic world.

Praise for Faerie Winter

"An incredible sequel to one of my very favorite books." —Aprilynne Pike, New York Times bestselling author of Wings

"I have been waiting for this book for over two years now, since the day I finished reading Bones of Faerie. Let me tell you, I was NOT disappointed. Janni knows how to write a strong female character, and the romance is sweet and slow and lovely." —Eve's Fan Garden

"A hauntingly exquisite portrait of a postapocalyptic world. Fans of both fantasy and dystopian fiction will devour this one." —School Library Journal

"A high-appeal blend of unsettling speculative fiction." —Booklist

"An intriguing mix of post-apocalyptic fiction with a heavy dose of fantasy. All readers will find something to enjoy." —Voice of Youth Advocates

"Entertaining. For those impatiently awaiting the next, heftier entry by Cassandra Clare or Julie Kagawa." —Kirkus Reviews

Praise for Bones of Faerie
"If you love authors Melissa Marr or Holly Black, this is your next read." —Justine

"Simner has added her name to the list of amazing YA Fantasy authors." —Faerie Drink Review

"This is not your mother's fairytale." —TeensReadToo.com

"Post-apocalyptic fantasy? Faeries? Dystopian? Can all of these words really describe one book? In Janni Lee Simner's case, the answer is a resounding yes!" —The Reading Zone

"Pure, stunning, it is impossible to put down or forget."—Jane Yolen, World Fantasy Award winner
Praise For Faerie After: Book 3 of the Bones of Faerie Trilogy…
"With the faerie and mortal lands crumbling away, a teenage girl must work with both worlds if anyone is to survive.

The Bones of Faerie series concludes with this high-stakes adventure for Liza. Relative peace has descended upon Liza's town, where she practices her summoner magic and waits for her half-faerie baby sister to be born. But the forest is showing new dangers, though subtle ones: a strange-smelling gray leaf that crumbles away; a dying squirrel whose back half has turned to dust; "a pair of empty boots, as far apart as a man might stand, filled with the same dust." Liza's quest to find out what's wrong reveals fresh disasters. In Faerie, the dust is everywhere but hardly as tragic as the fire fever— radiation poisoning—that's devastated the population since the War. In the mortal world, the dust is rapidly spreading in the bloodthirsty, carnivorous forest that was Faerie's weapon against the humans. Liza's solution to the problem of the rapidly unwinding universe is not always easy to follow, but the personal is sufficiently compelling to outweigh any problems with the metaphysical.

In a satisfying trilogy conclusion, Liza confronts the conflicts between saving the world and saving her friends in an environment where nobody is willing to let go of the last generation's hatreds." --Kirkus Reviews

"Fans of the first two novels of this series will be delighted to read the wrap-up to this trilogy. Liza continues to be a strong female protagonist, and the supporting cast of characters, both faerie and human, are well drawn and interesting. Besides the suspense of survival, this story also explores the themes of use and abuse of powers and talents. This is a satisfying finish to the Bones of Faerie trilogy that both junior and senior high students will be eager to read." -- VOYA
Random House Books for Young Readers, 9780375870699, 272pp.
Publication Date: May 28, 2013
About the Author
JANNI LEE SIMNER lives in the Arizona desert, where the plants know how to bite and even the dandelions have thorns. In spite of these things--or perhaps because of them--she's convinced she lives in one of the most stunning places on Earth. Janni has written the three books of the Bones of Faerie Trilogy--Bones of Faerie, Faerie Winter, and Faerie After--as well as a contemporary Icelandic fantasy, Thief Eyes. She's also published four books for younger readers and more than thirty short stories, including one in the Welcome to Bordertown anthology.
or
Not Currently Available for Direct Purchase