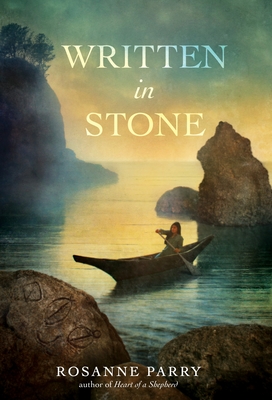 Written in Stone (Paperback)
Yearling, 9780375871351, 208pp.
Publication Date: June 10, 2014
Other Editions of This Title:
Hardcover (6/25/2013)
Library Binding (6/25/2013)
* Individual store prices may vary.
Description
Rosanne Parry, acclaimed author of A Wolf Called Wander and Heart of a Shepherd, shines a light on Native American tribes of the Pacific Northwest in the 1920s, a time of critical cultural upheaval.

Pearl has always dreamed of hunting whales, just like her father. Of taking to the sea in their eight-man canoe, standing at the prow with a harpoon, and waiting for a whale to lift its barnacle-speckled head as it offers its life for the life of the tribe. But now that can never be. Pearl's father was lost on the last hunt, and the whales hide from the great steam-powered ships carrying harpoon cannons, which harvest not one but dozens of whales from the ocean. With the whales gone, Pearl's people, the Makah, struggle to survive as Pearl searches for ways to preserve their stories and skills.
About the Author
   ROSANNE PARRY spent her first years as a teacher in Taholah, Washington, on the Quinault Indian Reservation. There she learned to love the taste of alder-smoked, blueback salmon, the wind and the cold mists of the rain forest, the sounds of the ocean and the eagles, and the rhythm of a life that revolved around not the clock and the calendar, but the cycle of the salmon running up the river and returning to the ocean. While there she never met a child who could not tell her a story--usually one that included a monster of epic proportions. The writer she became had everything to do with the people she came to cherish and the land between the Pacific and the Olympic Mountains where stories seemed to grow out of the earth all around her, tall and sturdy as cedars. To learn more, please visit RosanneParry.com.
Praise For Written in Stone…
NYPL 100 Titles for Reading and Sharing Selection

"This vivid, character-driven historical novel captivates." --Kirkus Reviews

"Realistic and insightful, Parry's novel succeeds in depicting a picture of one girl's experience to preserve her people's dignity and values in a rapidly changing modern world." --School Library Journal

"Parry shows respect and restraint in bringing their traditional ways of life to the page. Skillfully using dialogue and sensory details to portray people and places, she creates a strong sense of Pearl's individuality and of her people's struggle." --Booklist

"Parry successfully melds Pearl's quieter coming-of-age story with a faster-paced mystery plot concerning the true agenda of "art collector" Arthur Glen and the efforts of the Makah teens to thwart his predatory activities. Framing chapters focused on Pearl in her old age assure readers that the tribal knowledge and customs are endangered but not extinct, and closing notes address historical background and respect for maintaining the secrecy of certain stories and rituals." --The Bulletin

"While unveiling a dark corner of history during a period when imperialism and the exploitation of Native Americans ran rampant, Parry, a former teacher at a Quinault reservation, beautifully conveys universal and historical themes. Readers will relate to Pearl's internal conflicts as she rebels against traditional women's roles yet clings to what she knows and loves." --Publishers Weekly
or
Not Currently Available for Direct Purchase