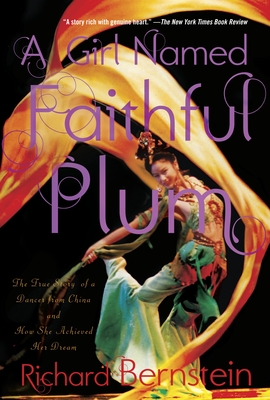 A Girl Named Faithful Plum
The True Story of a Dancer from China and How She Achieved Her Dream
Paperback

* Individual store prices may vary.
Description
In 1977, when Zhongmei Lei was 11 years old, she learned that the prestigious Beijing Dance Academy was having open auditions. She'd already taken dance lessons, but everyone said a poor country girl would never get into the academy, especially without any connections in the Communist Party of the 1970s. But Zhongmei, whose name means Faithful Plum, persisted, traveled for three days and two nights to get to Beijing and eventually beat out 60,000 other girls. But getting in was easy compared to staying in, as Zhongmei soon learned. Without those all-important connections, she was just a little girl on her own, far away from family. But her determination, talent, and sheer force of will were not something the teachers or other students expected, and soon it was apparent that Zhongmei was not to be underestimated.

Zhongmei became a famous dancer, and founded her own dance company, which made its New York debut when she was in just her late 20s. In A Girl Named Faithful Plum, her husband and renowned journalist, Richard Bernstein, has written a fascinating account of one girl's struggle to go from the remote farmlands of China to the world's stages, and the lengths she went to in order to follow her dream.
Praise For A Girl Named Faithful Plum: The True Story of a Dancer from China and How She Achieved Her Dream…
Starred Review, Kirkus Reviews, September 1, 2011:
"A fascinating and memorable account of a life and times difficult to imagine today."

Booklist, September 15, 2011:
Leaving her poor, remote village in 1978, 11-year-old Zhongmei Li traveled an arduous three-day journey to audition for the Beijing Dance Academy. At the end of the highly competitive seven-stage competition, despite her rural background and lack of connections, she was one of the few girls selected. At the academy, a rigid dormitory supervisor and hostile teacher make life miserable for the young student, but the resolute Zhongmei survives the eight-year training and becomes a successful dancer. Written by her U.S. husband, this biography follows the steely, determined dancer through many adversities up to her academy graduation. Although the narrative is occasionally overly descriptive, it is packed with cultural information. It explains, for example, how a list of names is organized for posting, as there is no alphabetical order in Chinese. Inspiring for would-be dancers, Zhongmei Li's gritty success story is also a revealing window into post-Mao China. — Linda Perkins
Yearling, 9780375871580, 288pp.
Publication Date: September 11, 2012
About the Author
Growing up in East Haddam, Connecticut, RICHARD BERNSTEIN always dreamed of seeing the world, and after he finished college he figured a great way to do that would be to become a newspaper reporter. So he became a foreign correspondent for Time Magazine and then the New York Times, which sent him—all expenses paid!—to lots of countries, including Hong Kong, China, Thailand, Indonesia, Vietnam, France, Germany, Poland, South Africa, Mozambique, and about 20 others. A Girl Named Faithful Plum is his first book for young readers, but he's sure it won't be his last. Richard lives in Brooklyn, New York, with his wife, Zhongmei (who is Faithful Plum!), his son, Elias, and their cat, Lucky.
or
Not Currently Available for Direct Purchase