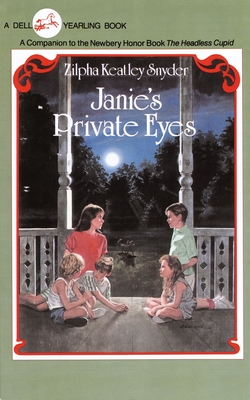 Janie's Private Eyes (Paperback)
Yearling, 9780375895142, 220pp.
Publication Date: January 1, 2001
* Individual store prices may vary.
Description
One by one, dogs are disappearing from thirteen-year-old David Stanley's neighborhood. Who could be taking people's pets? David's eight-year-old sister Janie has just founded the J.V. Stanley detective agency and she's determined to find out. It looks like a case of dognapping, and neighbors are accusing her friends the Trans, a Vietnamese family new to the area. In no time at all David fins himself, Thuy and Huy Tran, and the rest of the Stanley family involved in a search for a missing poodle. But solving crimes can be dangerous, even deadly. Before long, Janie's private eyes are up to their necks in danger and it's up to David to get them out of it!

"This fourth book about the eccentric but believable Stanleys and their madcap adventures stands well on its own. . . . Funny and fast-paced."—Kirkus Reviews

"The mystery is credibly solved in a nicely crafted story that has suspense, humor, and natural dialogue."—Bulletin of the Center for Children's Books

"A funny and quick read that fans of the Stanley family will enjoy. . . ."—School Library Journal 
About the Author
Raised in California, in the country—with no television and few movies to watch—three-time Newbery Honor winner Zilpha Keatley Snyder filled her childhood with animals, games, and books. Among her earliest acquaintances were cows, goats, ducks, chickens, rabbits, dogs, cats, and horses. In fact, her family's animals were her closest friends, and a nearby library was a constant source of magic, adventure, and excitement for her. Snyder attended Whittier College in Southern California, which awarded her an honorary doctorate. There she also met her future husband, Larry Snyder. While ultimately planning to be a writer, after graduation Snyder decided to teach school temporarily. But she found teaching to be an extremely rewarding experience and taught in the upper elementary grades for a total of nine years, three of them as a master teacher for the University of California at Berkeley. In the early sixties, when all of her children were finally in school, Snyder began to think about writing again. "Writing for children hadn't occurred to me when I was younger, but nine years of teaching in the upper elementary grades had given me a deep appreciation of the gifts and graces that are specific to individuals with 10 or 11 years of experience as human beings. Remembering a dream I'd had when I was 12 years old about some strange and wonderful horses, I sat down and began to write." Season of Ponies, Snyder's first book, was published in 1964.Snyder's novel, Gib Rides Home, is a vivid look at the life of an orphan in prairie country almost a century ago. The book was inspired by Snyder's father, who grew up in a Nebraska orphanage and was farmed out as labor on nearby ranches.