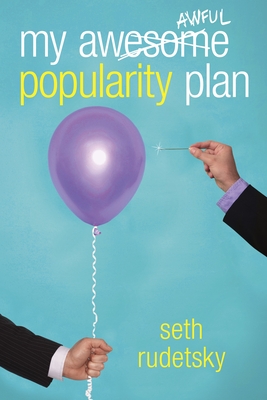 My Awesome/Awful Popularity Plan (Paperback)
Ember, 9780375899973, 224pp.
Publication Date: January 8, 2013
Other Editions of This Title:
Hardcover (1/24/2012)
MP3 CD (8/16/2016)
Library Binding (1/24/2012)
* Individual store prices may vary.
Description
Justin has two goals for sophomore year: to date Chuck, the hottest boy in school, and to become the king of Cool U, the table in the cafeteria where the "in" crowd sits.

Unfortunately, he has the wrong look (short, plump, Brillo-pad curls), he has the wrong interests (Broadway, chorus, violin), and he has the wrong friends (Spencer, into Eastern religions, and Mary Ann,  who doesn't shave her armpits). And Chuck? Well, he's not gay; he's dating Becky, a girl in chorus with whom Justin is friendly.

But Justin is determined.

In detention one day (because he saw Chuck get it first), Justin comes up with a perfect plan: to allow Becky to continue dating Chuck, whom Becky's dad hates. They will pretend that Becky is dating Justin, whom Becky's dad loves. And when Becky and Justin go out on a fake date, Chuck will meet up with them for a real date with Becky. Chuck's bound to find Justin irresistable, right? What could go wrong?

Seth Rudetsky's first novel for young adults is endearingly human, and laugh-out-loud funny, and any kid who ever aspired to Cool U will find Justin a welcome ally in the fight for popularity.
About the Author
SETH RUDETSKY is the Broadway host, seven days a week, on SiriusXM Satellite Radio. As a pianist, Seth has played for more than a dozen Broadway shows including Ragtime, Les Miz, and Phantom. He was the Artistic Producer/Music Director for the first five annual Actors Fund Fall Concerts including Dreamgirls with Audra MacDonald and Hair with Jennifer Hudson. In 2007, he made his Broadway acting debut in The Ritz and has also appeared on TV in Law & Order: Criminal Intent. As an author, he penned the books The Q Guide to Broadway and Broadway Nights. He currently writes a weekly column on PlayBill.com.