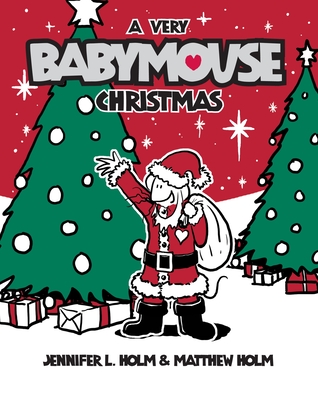 A Very Babymouse Christmas (Library Binding)
Random House Books for Young Readers, 9780375967795, 89pp.
Publication Date: September 27, 2011
Description
NEW YORK TIMES bestselling and Newbery Honor winning author Jennifer Holm teams up with Matthew Holm to bring you a fully illustrated graphic novel series packed with humor and kid appeal--BABYMOUSE With multiple Children's Choice awards and over 1.7 million books in print, kids, parents, and teachers agree that Babymouse is perfect for fans of Junie B. Jones, Ivy and Bean, Big Nate, Dork Diaries, and the Ramona chapter books 'Twas the night before Christmas and all through the house, not a creature was stirring, except for . . . Babymouse.
The holidays are here and everyone's enjoying their favorite traditions--eating latkes, decorating for Kwanza, singing holiday songs, and most of all, being with family. Well, everyone except Babymouse. Babymouse only has one thing on her mind--PRESENTS And whether she has to face down the ghosts of mean girls past or outsmart Santa himself, she'll do whatever it takes to make sure she gets the present she wants. Will Babymouse find a whiz-bang under the tree? Will she learn the true meaning of the holidays? And what do you get for a narrator, anyway? Find out in A Very Babymouse Christmas--the 15th graphic novel in the hilarious, award-winning Babymouse series Here's what people are saying about Babymouse The Chicago Sun-Times:
"Move over, Superman, here comes Babymouse " Starred Review, The Horn Book:
"Nobody puts Babymouse in the corner " Booklist:
"Cute, smart, sassy Babymouse is fun and funny, and this book, like its predecessors, will draw reluctant readers as well as Babymouse fans." The Bulletin:
"An almost absurdly likeable heroine." From the Trade Paperback edition.
About the Author
Brother-and-sister team MATTHEW HOLM and JENNIFER L. HOLM have been extremely good this year. If you're reading, Santa, Jennifer would love to find a surfboard under her tree and Matthew is still waiting for the Star Wars AT-AT walker he asked for when he was 10. When they're not busy decking halls, Jennifer is the New York Times bestselling author of several highly acclaimed novels, including three Newbery Honor-winners, Our Only May Amelia, Penny from Heaven, and Turtle in Paradise. Matthew Holm is a graphic designer and freelance writer. They are also the creators of the Squish series (which we think Rudolph would really enjoy). From the Trade Paperback edition.
Advertisement