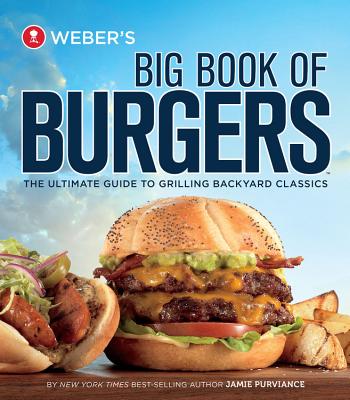 Weber's Big Book of Burgers
The Ultimate Guide to Grilling Backyard Classics
Paperback

* Individual store prices may vary.
Description
Weber's Big Book of Burgers
tips a spatula to the mighty beef patty, celebrating our national dish in all its glory, and goes beyond the bun, reinventing the burger with modern twists and alternative ingredients such as pork, poultry, seafood, and veggies. And it doesn't stop there—with recipes for sizzling sausages, hot dogs, and brats, plus sides like out-of-this-world onion rings and drinks like luscious milkshakes—this book pays homage to other classic barbecue fare and offers 160 inspiring reasons for you to fire up the grill.
Packed with nearly 250 full-color photos, step-by-step instructions, and whimsical watercolor illustrations,
Weber's Big Book of Burgers
is sure to become as classic as the burger itself. From the food to the fun to the flavors, you'll find juicy goodness on every single page.
Weber's Big Book of Burgers
also includes:  
The Five Steps to Burger Perfection for perfect patties and big, juicy burgers time and time again
Tried-and-true expert advice on grinding your own meat for burgers; building a better burger; grill setups, maintenance, and safety; tools of the trade; ten tips for grilling greatness; and more
A visual sausage guide detailing many different varieties' flavor profiles and origins
Regional burger and hot dog features on these American favorites with whimsical, full-color illustrations from artist Linda Kelen
Feature stories on who invented the hamburger, the New England-style top-loading bun, Sheyboygan: the home of the brat, pickles, and understanding the science behind food euphoria
Mariner Books, 9780376020321, 256pp.
Publication Date: April 1, 2014
About the Author
JAMIE PURVIANCE is one of America's top grilling experts and Weber's master griller. He graduated from Stanford University and the Culinary Institute of America before launching a career as a food writer for publications such as Bon Appetit, Better Homes and Gardens, Fine Cooking, Town & Country, and the Los Angeles Times. He is the author of numerous cookbooks including Weber's Way to Grill, a James Beard Award nominee and New York Times best seller. Purviance has appeared as a grilling authority on numerous television shows including Today, The Early Show, Good Morning America, and The Oprah Winfrey Show. He lives in Sacramento, California.

WEBER GRILL: The year was 1952. Weber Brothers Metal Works employee George Stephen Sr. had a crazy idea. Using as a model the marine buoys made by his company, he concocted a funky dome-shaped grill with a lid to protect food and keep in rich barbecue flavor. From those humble beginnings, an international grilling revolution was born. Today, Weber has grown to become the leading brand of charcoal and gas grills and accessories, and George's kettle has become a backyard icon.