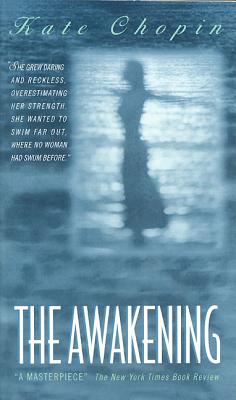 Awakening (Mass Market)
Avon, 9780380002450, 192pp.
Publication Date: February 10, 1982
Other Editions of This Title:
Paperback (12/10/2010)
Paperback (11/4/1993)
Paperback (7/30/2008)
Paperback (1/20/2010)
Paperback (10/27/2009)
Paperback (8/11/2011)
Paperback, Large Print (10/27/2009)
Paperback (7/30/2008)
Hardcover (11/10/2009)
Hardcover (11/10/2009)
Paperback (2/2/2011)
Paperback (9/2/2011)
Paperback (8/19/2010)
Mass Market (4/1/1976)
Hardcover (11/3/1992)
Paperback (8/31/2010)
* Individual store prices may vary.
Description
"She grew daring and reckless. Overestimating her strength. She wanted to swim far out. Where no woman had swum before."
About the Author
Kate Chopin was born in St. Louis, Missouri,In 1851. She began writing shortly after herHusband's death and, from 1889 until her ownDeath, her stories and other miscellaneousWritings appeared in Vogue, Youth's companion,Atlantic Monthly, Century, Saturday EveningPost, and other publications. In addition to The Awakening, Mrs. Chopin published another novel, At Fault, and two collections of short stories and sketches, Bayou Folk and A Night at Acadie. The publication of The Awakening in 1899 occasioned shocked and angry response from reviewers all over the country. The book was taken off the shelves of the St. Louis mercantile library and its author was barred from the fine arts club. Kate Chopin died in 1904.