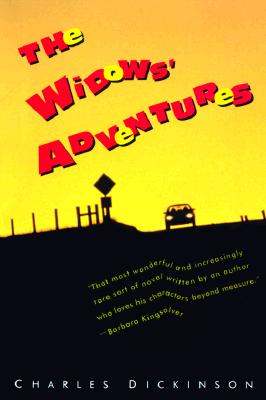 The Widows' Adventures (Paperback)
William Morrow Paperbacks, 9780380708475, 400pp.
Publication Date: March 9, 1999
* Individual store prices may vary.
Description
Two widows take to the road across America in this ambitious novel by Charles Dickinson. Helene, who is blind, does the driving. Her sister, Ina, shows the way, and together they break free into the light they feared had gone out of their lives. They cross a landscape whose dangers are secondary to the perilous memories and secrets they share. Their goal-Los Angeles, home to Ina's children-shimmers like a mirage on the horizon of their plans. Charles Dickinson has invested these two women with a remarkable spirit: In a vast and intricate weaving of truth and memory he has created two unforgettable sisters with the courage, the wit, and the tenacity to embark upon a journey that redefines for themselves and their families the kind of women they will be for the rest of their lives.
About the Author
With seven highly acclaimed books to his credit, Charles Dickinson takes American fiction back to the complexity of modern life and love with his characteristically incisive irony and humor. Critics have compared him to such masters as Margaret Atwood, Ann Tyler, Michael Crichton and Raymond Carver.
His stories have appeared in The New Yorker, Esquire and The Atlantic, among others, and two stories, "Risk" and "Child in the Leaves," were included in O. Henry collections. He has received generous praise for his novels, Waltz in Marathon, Crows, The Widows' Adventures, Rumor Has It, A Shortcut in Time, and its sequel, A Family in Time, and his collection of stories, With or Without.
Born in Detroit, Dickinson lives near Chicago with his wife.
Praise For The Widows' Adventures…
"The Widows' Adventures is full of wit . . . Dickinson displays all the marks of a great writer."
— Philadelphia Inquirer

"That most wonderful and increasingly rare sort of novel written by an author who loves his characters beyond measure."
— Barbara Kingsolver

"Amusing and touching . . . in the best sense of the word, an entertainment."
— Washington Post

"Quirky freshness . . . an original novel . . . a writer of uncommon interest."
— New York Times

"Dickinson works magic in this painful, hilarious adventure. . . . His characters glow with passions, bright blue and dangerous, that jump back and forth between them like arcing electricity. . . . He makes their journey not only captivating, but entirely plausible."
— Los Angeles Times

"Dickinson offers a tightly constructed, highly deliberate narrative. . . . His accumulated insights, and the rhythm at which he reveals them, will linger and leave a lasting impression."
— Publishers Weekly

"The characterization develops fully just soon enough to hook the reader, who may find this novel a refreshing change, as it examines the physical, emotional, and spiritual lives of two endearing but not perfect older women."
— Library Journal

"Marvelous characters."
— Chicago Tribune