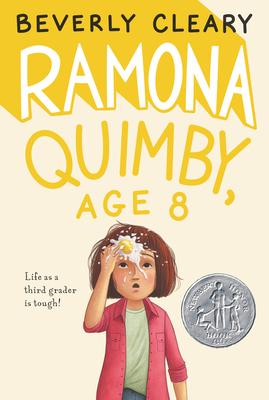 Ramona Quimby, Age 8
A Newbery Honor Award Winner
Paperback

* Individual store prices may vary.
Other Editions of This Title:
Digital Audiobook (10/4/2010)
Hardcover (3/17/2020)
Prebound (3/19/2013)
CD-Audio (10/5/2010)
Hardcover (1/26/2016)
Prebound (1/26/2016)
Hardcover (4/5/2016)
Paperback (8/1/1982)
Description
In this edition of the Newbery Honor Book Ramona Quimby, Age 8, the timeless classic features a special foreword written by actress, producer, and author Amy Poehler, as well as an exclusive interview with Beverly Cleary herself.
Ramona likes that she's old enough to be counted on, but must everything depend on her? Mrs. Quimby has gone back to work so that Mr. Quimby can return to school, and Ramona is expected to be good for Mrs. Kemp while her parents are away, to be brave enough to ride the school bus by herself, and to put up with being teased by Danny the Yard Ape.
In Ramona's world, being eight isn't easy, but it's never dull!
Readers ages 6-12 will laugh along with and relate to Ramona's timeless adventures.
HarperCollins, 9780380709564, 208pp.
Publication Date: March 17, 2020
About the Author
Beverly Cleary is one of America's most beloved authors. As a child, she struggled with reading and writing. But by third grade, after spending much time in her public library in Portland, Oregon, she found her skills had greatly improved. Before long, her school librarian was saying that she should write children's books when she grew up.
Instead she became a librarian. When a young boy asked her, "Where are the books about kids like us?" she remembered her teacher's encouragement and was inspired to write the books she'd longed to read but couldn't find when she was younger. She based her funny stories on her own neighborhood experiences and the sort of children she knew. And so, the Klickitat Street gang was born!
Mrs. Cleary's books have earned her many prestigious awards, including the American Library Association's Laura Ingalls Wilder Award, presented to her in recognition of her lasting contribution to children's literature. Dear Mr. Henshaw won the Newbery Medal, and Ramona Quimby, Age 8 and Ramona and Her Father have been named Newbery Honor Books. Her characters, including Beezus and Ramona Quimby, Henry Huggins, and Ralph, the motorcycle-riding mouse, have delighted children for generations.
Jaqueline Rogers has been a professional children's book illustrator for more than twenty years and has worked on nearly one hundred children's books.