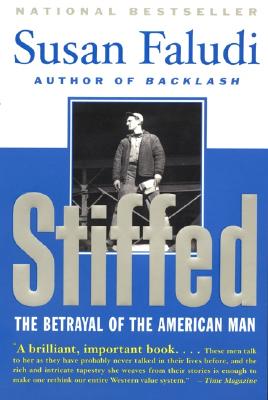 Stiffed (Paperback)
The Betrayal of the American Man
William Morrow Paperbacks, 9780380720453, 672pp.
Publication Date: September 19, 2000
* Individual store prices may vary.
Description
One of the most talked-about books of last year, the Pulitzer Prize-winning author of Backlash now explores the collapse of traditional masculinity that has left men feeling betrayed. With Backlash in 1991, Susan Faludi broke new ground when she put her finger directly on the problem bedeviling women, and the light of recognition dawned on millions of her readers: what's making women miserable isn't something they're doing to themselves in the name of independence. It's something our society is doing to women. The book was nothing less than a landmark. Now in Stiffed, the author turns her attention to the masculinity crisis plaguing our culture at the end of the '90s, an era of massive layoffs, "Angry White Male" politics, and Million Man marches. As much as the culture wants to proclaim that men are made miserable--or brutal or violent or irresponsible--by their inner nature and their hormones, Faludi finds that even in the world they supposedly own and run, men are at the mercy of cultural forces that disfigure their lives and destroy their chance at happiness. As traditional masculinity continues to collapse, the once-valued male attributes of craft, loyalty, and social utility are no longer honored, much less rewarded. Faludi's journey through the modern masculine landscape takes her into the lives of individual men whose accounts reveal the heart of the male dilemma. Stiffed brings us into the world of industrial workers, sports fans, combat veterans, evangelical husbands, militiamen, astronauts, and troubled "bad" boys--whose sense that they've lost their skills, jobs, civic roles, wives, teams, and a secure future is only one symptom of a larger and historic betrayal.
About the Author
Susan Faludi is a Pulitzer Prize-winning journalist and the author of Backlash: The Undeclared War Against American Women, which won the 1992 National Book Critics Circle Award for Nonfiction. A contributing editor for Newsweek and a former reporter for The Wall Street Journal, she has written for many magazines, including The New Yorker, The New York Times, Esquire, Double Take, and The Nation. She lives in Los Angeles.