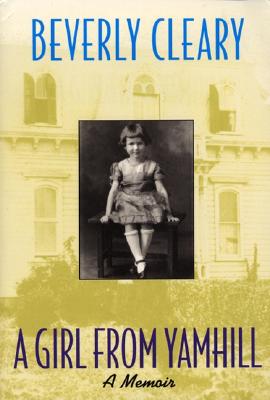 A Girl from Yamhill
Paperback

* Individual store prices may vary.
Other Editions of This Title:
Paperback (4/5/2016)
Description
Told in her own words, A Girl from Yamhill is Newbery Medal–winning author Beverly Cleary's heartfelt and relatable memoir—now with a beautifully redesigned cover!
Generations of children have read Beverly Cleary's books. From Ramona Quimby to Henry Huggins, Ralph S. Mouse to Ellen Tebbits, she has created an evergreen body of work based on the humorous tales and heartfelt anxieties of middle graders. But in A Girl from Yamhill, Beverly Cleary tells a more personal story—her story—of what adolescence was like. In warm but honest detail, Beverly describes life in Oregon during the Great Depression, including her difficulties in learning to read, and offers a slew of anecdotes that were, perhaps, the inspiration for some of her beloved stories.
For everyone who has enjoyed the pranks and schemes, embarrassing moments, and all of the other poignant and colorful images of childhood brought to life in Beverly Cleary's books, here is the fascinating true story of the remarkable woman who created them.
HarperCollins, 9780380727407, 352pp.
Publication Date: October 1, 1996
About the Author
Beverly Cleary is one of America's most beloved authors. As a child, she struggled with reading and writing. But by third grade, after spending much time in her public library in Portland, Oregon, she found her skills had greatly improved. Before long, her school librarian was saying that she should write children's books when she grew up.
Instead she became a librarian. When a young boy asked her, "Where are the books about kids like us?" she remembered her teacher's encouragement and was inspired to write the books she'd longed to read but couldn't find when she was younger. She based her funny stories on her own neighborhood experiences and the sort of children she knew. And so, the Klickitat Street gang was born!
Mrs. Cleary's books have earned her many prestigious awards, including the American Library Association's Laura Ingalls Wilder Award, presented to her in recognition of her lasting contribution to children's literature. Dear Mr. Henshaw won the Newbery Medal, and Ramona Quimby, Age 8 and Ramona and Her Father have been named Newbery Honor Books. Her characters, including Beezus and Ramona Quimby, Henry Huggins, and Ralph, the motorcycle-riding mouse, have delighted children for generations.
or
Not Currently Available for Direct Purchase