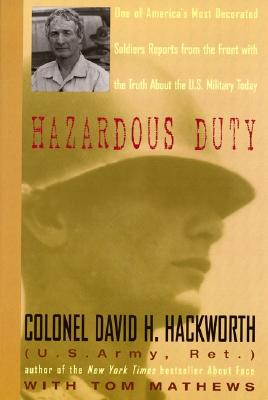 Hazardous Duty (Paperback)
William Morrow & Company, 9780380727421, 368pp.
Publication Date: September 1, 1997
* Individual store prices may vary.
or
Not Currently Available for Direct Purchase
Description
The author of the phenomenal New York Times bestseller About Face, Colonel David H. Hackworth is one of America's most decorated soldiers, having served at the end of World War II, and in Korea and Vietnam. Retired from the military since 1971, he has completed second tour of battlefield duty -- this time as a war correspondent -- accompanying our nation's fighting men and women to the Persian Gulf, Bosnia, Somalia, Korea and Haiti. What he learned of high-level military incompetence, futility and corruption in the heat and fury of Desert Storm -- and in the desperation of the Balkans and Mogadishu -- is shocking, frightening and infuriating...and it must be told.
Hazardous Duty is a necessary wake-up call for military reform -- a no-holds-barred, no-punches-pulled expose that calls America's top political and military leaders to account for selling out duty, honor and country. It is riveting, real-life adventure of courageous warriors on the world's new battlefields -- and of their systematic betrayal by the weakness of an increasingly wasteful and inept high command. It offers essential solutions to problems that must be addressed if our nation is to remain the foremost military power in a volatile and ever-changing world.
Advertisement